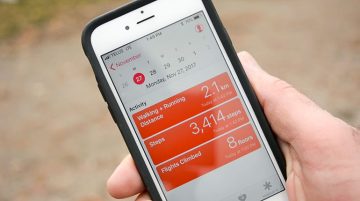 UBC Public Affairs
By: Erik Rolfsen
December 6, 2017
If you use your smartphone to monitor your physical activity, you're probably more active than it suggests.
A new UBC study finds that the iPhone's built-in pedometer missed about 1,340 steps during a user's typical day when compared to a purpose-built accelerometer worn on the waist.
The results suggest researchers should use caution when relying on smartphone data, but Mark Duncan, the study's lead author, said the average person shouldn't be discouraged from using health apps for motivation.
"For people who are already tracking their steps, they can rest assured that if their phone says they're getting the recommended 10,000 steps in a day, they are probably getting at least that many, and they are working toward better health," said Duncan. "From a public health point of view, it's better that it underestimates than overestimates."
"The accelerometer in the iPhone actually does a pretty good job when tested under lab conditions," said senior author Dr. Guy Faulkner. "You just have to have it on you at all times."
The study by Duncan, Faulkner, and fellow UBC School of Kinesiology researchers Kelly Wunderlich and Yingying Zhao, was published November 28, 2017 in the Journal of Sports Sciences.
Link to full text.
Story via UBC News.