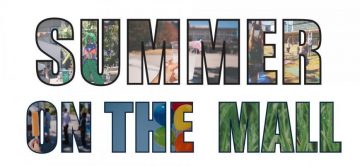 When: August 14 - 18, 2017
Where: Main Mall
Get ready for a week-long summer celebration! During the week of August 14 – 18, Main Mall is the place to socialize, get active or just relax in the sun. From yoga, to outdoor art crawls, to live music and petting zoos, there won't be a shortage of things to do only a few steps away!
NOTE: All events are free, and everyone is welcome to drop in! 
---
MONDAY  
Move It Monday
12:00 p.m. – 1:00 p.m. | Martha Piper Plaza (The Fountain)
Stop by the plaza in your workout gear and enjoy a 30-minute guided run-walk lead by UBC Triathloner Jonathan Chan. Warm up and cool down stretches are included!
---
TUESDAY
Outdoor Art Crawl
12:00 p.m. – 1.30 p.m. | Meet in front of the Reconciliation Pole
Enjoy an outdoor art tour lead by the Belkin Gallery. Engage your creative mind and learn about UBC's incredible outdoor art features while you soak in the sunshine. Tour kicks off at 12:00 p.m. at the Reconciliation Pole.
---
WEDNESDAY
Namaste Wednesday 
12:00 p.m. – 1:00 p.m. | Fairview Commons (beside the Earth Sciences Building)
Drop by Fairview Commons on your lunch break and stretch out your week in our outdoor yoga class with our talented yoga teachers, Rachel Scott & Jayme Burke. Finish off the hour with some refreshing ice cold kombucha, from Tality kombucha (created by UBC students) Bring your own mat and find your zen with fellow friends & colleagues.
---
THURSDAY
Shoe Sale Run Club
Meet at 12:00 p.m. – 1:00 p.m. | Martha Piper Plaza (The Fountain)
Jonathan Chan of the UBC TriathlonClub returns for another guided run/walk. He'll warm up those sleepy muscles and give you an awesome lunch time workout. Not only are you in for a great run, you are also finishing off your run at the Running Room store in Wesbrook Village to enjoy 25% everything in store!  When you're done treating yourself to some new shoes, you can join us at the UBC Rose Garden for our Pop-up Concert.
Groovy Garden
12:00 p.m. – 2:00 p.m. |  UBC Rose Garden
Join us at the UBC Rose Garden and take a break from your week. While you're there, soak in UBC's million-dollar view, relax and kick back to tunes from the incredibly talented Rebecca Hope. She is  UBC student that is sure to sing all your worries away! Bring your lunch, a friend or two and let's enjoy the afternoon together!
---
FRIDAY
Furry Frienday
12:00 p.m. – 2:00 p.m. |  Main Mall & Agronomy Road
It's PETTING ZOO time! You heard it right, we are bringing some furry friends to campus to end your week off right. Our famous UBC Magician & Illusionist Club will also be there to amaze you with their fabulous magic tricks and make you feel like a kid again. Sweet summer treats are included.
---