May 15, 2017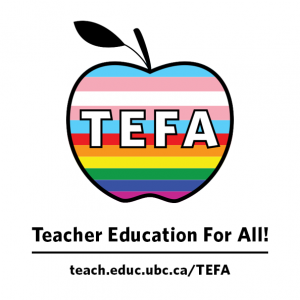 Steve Mulligan has taught a range of grades and subjects. He is currently seconded from the VSB to the UBC Faculty of Education coordinating the Teacher Education for All! (TEFA) project, which aims to build capacity within Teacher Education to create and provide an inclusive culture, workplace, and learning environment with a particular focus on sexual orientation and gender identity (SOGI).
Steve's role stems from the 2015 Every Teacher Project, which found that, while 85% of teachers in Canada approve of LGBTQ-inclusive education, only 37% have actively participated, and a majority (59%) of teachers in their first five years of teaching said that their B.Ed. program had not prepared them for the sexual and gender diversity they encountered in schools.
---
An Interview with Steve Mulligan
What is your background?
My passion for social emotional learning and diversity, specifically sexual orientation and gender identity (SOGI) began in 2007 when I began as the VSB's Anti-homophobia and Diversity Consultant. In this role, I guided the district's senior management, administrators, counselors and teachers on best practices and policy around SOGI education and student support.
How has your appointment made a difference with teacher education candidates?
In this role, I have been able to connect with and motivate this year's teacher candidates to consider how they can teach in a more inclusive way. We've given candidates basic information about sexual and gender diversity and then arranged multiple opportunities for folks to come and meet youth, parents, other educators and community members who have shared their stories, experiences, and ideas. My goal is always to meet folks wherever they're at and to provide inspiration and encouragement to explore how they can move along in their understanding and ability to support students. I've also facilitated a SOGI student collective and book club to give space for teacher candidates to learn, discuss inclusive practices and better understand one another. Finally, I've been part of creating a new website, SOGIeducation.org that organizes information, resources and lesson plans to make it easy for both teacher candidates and practicing teachers and administrators to find the tools they need.
What is the future of TEFA? Where would you like to see it go?
Since one year is hardly enough to create meaningful change in a large organization, the project has been enthusiastically embraced by senior leadership and will continue for at least another year. For those who were not able to attend this year's presentations, we have also posted video recordings of our TEFA presentations as well as many other resources on the TEFA website. Also, for the first time, this summer we are offering a Sexual Orientation and Gender Identity (SOGI) Education and Leadership Summer Institute called Safe is Not Enough on July 4 and 5, 2017. I'm excited about the future of TEFA because there are already many faculty members who have great ideas and are including and integrating SOGI content into their teaching. We hope to share their stories and inspire others so that this inclusivity is a part of every course in Teacher Education. Changes to the BC Human Rights Code, as well as a new directive from the Ministry of Education, mean that school districts are striving to be more inclusive, yet many teachers have limited personal experience with sexual and gender diversity. It is my hope that UBC's Faculty of Education can play a critical role in shaping a school system where students really understand and accept these differences, and can feel safe, included and empowered.
Web resources: