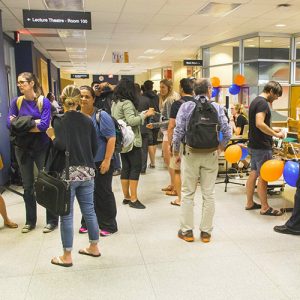 The 4th Annual TEC Expo has now ended. Thank you to all presenters, facilitators, sponsors and attendees for making this year's TEC Expo a success.
On July 12 and 13, 2017, Educational Technology Support (ETS) hosted its fourth TEC Expo event in the Neville Scarfe Building Foyer at 2125 Main Mall. The Technology Enhanced Classroom (TEC) Expo is an annual event designed to showcase and celebrate creative and innovative uses of technology in face-to-face, blended, and online classrooms within the Faculty of Education.
This year more than 20 faculty and students presented a wide range of topics through either interactive presentations or hands-on maker stations.
Attendees on opening day discovered how technologies ranging from online peer-assessment web applications to STEM Education videos can transform online learning. Staff members from ETS also featured UBC's new Learning Management System, Canvas. On Day 2, attendees had the opportunity to try hands-on activities, from  non-sewing book making and knot-tying, to Ozobot robotics and coding with Microbits. On both days, attendees had the opportunity to try out the Virtual Reality station held by the Emerging Media Lab.
View the photo gallery .
Re-watch live-streamed videos
A new feature this year was to live-stream conversations with the presenters. Those who could not attend the event were able to view and interact with the conversations live, while attendees and presenters can re-watch them at their own convenience.
Watch the videos
Feedback
Did you attend or present at TEC Expo 2017? TEC Expo is an annual event and we strive to improve it every year. Please take a moment to provide feedback.
Submit Feedback
Once again, thank you all for making this event possible. See you in TEC Expo 2018!