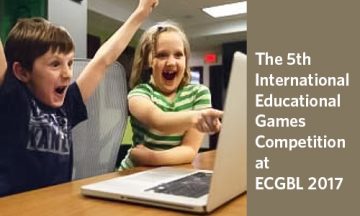 The European Conference on Games Based Learning (ECGBL) was established 9 years ago. It has been held in Scotland, Spain, Portugal, Germany, Greece, Norway to mention only some of the countries who have hosted it. ECGBL 2017 is being held at the FH JOANNEUM University of Applied Science, Graz, Austria on October 5-6, 2017.
From the message of the Conference Chair:
As technological development makes AR and VR technology more affordable, there is a strong focus this year on innovative game-based technological solutions and case studies, as for example in the mini track Mixed Reality for Game-Based Learning. In addition, the mini track on Game-Based Learning in Health Care Education, focuses on using CAVE technology and other 3D immersive methods for health care education, and studies the medical effects games and VR have on people's response to conditions such as motion sickness, presence, immersion, performance anxiety etc.
For more information on the conference and how to register, check the ECGBL webpage.
International Educational Games Competition
The 5th International Education Games Competition is hosted by ECGBL 2017. They are currently still open to proposals, accepting abstracts until June 16, 2017.
Games submitted for the competition are expected to accomplish an educational goal. Authors should be prepared to explain their design and evaluation process, why it is innovative (the game itself or its educational setting) and how they achieved (will achieve) the impact they seek. The game should be in a development state that engages the player for at least 10 minutes.
The aims of the competition are:
To provide an opportunity for educational game designers and creators to participate in the conference and demonstrate their game design and development skills in an international competition;
To provide an opportunity for game-based learning creators to peer-assess and peer-evaluate their games;
To provide ECGBL attendees with engaging and best-practice games that showcase exemplary applications of game-based learning.
More information on submissions can be found in the game competition outline page.