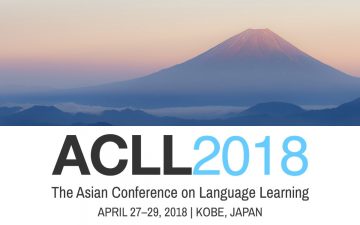 When: April 27-29, 2018
Where: Art Center Kobe, Kobe, Japan
In this period of great global political and economic instability, rising inequality and social unrest, the role of education within society has never been more important, but never more vulnerable. This brings us to our conference theme for 2018, which references these inherent vulnerabilities in both educational systems and the individual students and teachers, as well as the necessary resilience needed to not only survive, but also thrive.
How do we teachers, administrators and policymakers adopt and adapt to change outside our control? How do we nurture and encourage positive change, through the excitement of the imagination, innovation and creativity? How can technologies be better used to help us teach, and to help students learn? How do we sustain and manage change? How can we react positively to negative change? How can we, our institutions and our students survive and thrive in these times of change?
This year's list of featured speakers includes Dr. Bonny Norton, FRSC, Professor and Distinguished University Scholar in the Department of Language and Literacy Education.
---
Conference Theme: "Surviving and Thriving: Education in Times of Change"
Early Bird Abstract Submission Deadline: December 08, 2017*
*Submit early to take advantage of the discounted registration rates.
Final Abstract Submission Deadline: February 08, 2018
Registration Deadline for Presenters: March 08, 2018
Early Bird Audience Registration Deadline: January 9, 2018