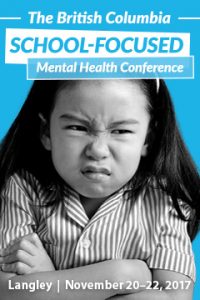 When: November 20-22, 2017
Where: Coast Hotel & Convention Centre Langley City, 20393 Fraser Highway, Langley
Over the past five years, our school-focused conferences have trained over 3,000 education professionals. This year, a variety of exciting new topics have been introduced: anxiety disorders, oppositional and defiant behaviors, emotional disorders, eating disorders, high functioning autism, yoga and mindfulness, LGBT 101, strengthening executive skills, the neuropsychology of reading and written language disorders and more! This conference promises to offer new skills, new techniques and new strategies to help keep you motivated and excel with your students.
Day 1:
Steven G. Feifer, D.Ed., NCSP "The Neuropsychology of Emotional Disorders"
Christine Dargon, Ph.D. "Anxiety Disorders in Children & Adolescents"
Jay Berk, Ph.D. "Practical Strategies for Oppositional and Defiant Children & Adolescents"
Jeanette Gallus, RYT, MSE, MA "Yoga & Mindfulness in the Classroom"
Day 2:
Judy Willis, M.D., M.Ed. "Neurological Strategies for Building Students' Emotional Self-Management, Motivation, and Perseverance" and "Using Brain Research to Help Student Develop Their Executive Functions"
Eboni Webb, Psy.D. "Rescuing the Dysregulated Child"
Christine Dargon, Ph.D. "Eating Disorders"
Day 3:
Randy Paterson, Ph.D. "LGBT 101" and "How Not to Create a Miserable Kid"
Meghan Barlow, Ph.D. "High Functioning Autism"
Eboni Webb, Psy.D. "Dialectical Behaviour Skills Training for Children, Adolescents, and Parents"
Registration
Early bird cutoff date: November 6, 2017
To receive the early bird rate, registration and payment must be received by Monday, November 6, 2017.
Continuing Education Credits
This workshop has been formally approved by the following associations:
Canadian Addiction Counsellors Certification Federation (CACCF)
Canadian College of Professional Counsellors and Psychotherapists (CCPCP)
Canadian Counselling and Psychotherapy Association (CCPA)
Canadian Professional Counsellors Association (CPCA)
Canadian Psychological Association (CPA)
Canadian Vocational Rehabilitation Association (VRA)
Employee Assistance Certification Commission (EACC)
Indigenous Certification Board of Canada (ICBOC)
Medical Psychotherapy Association Canada (MDPAC)
Ontario Association of Consultants, Counsellors, Psychometrists and Psychotherapists (OACCPP)
Ontario Expressive Arts Therapy Association (OEATA)
† The Alberta College of Social Workers (ACSW) and the Newfoundland and Labrador Association of Social Workers (NLASW) accept CPA-approved CEUs.
* Participants will receive a certificate of completion after every workshop. Workshops are pre-approved for 5.5 or 6 credits per day unless otherwise specified.