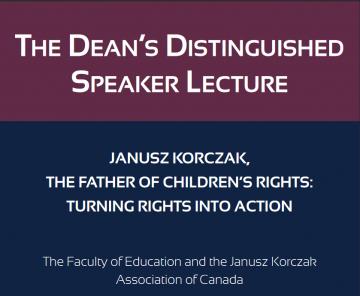 The Faculty of Education and the Janusz Korczak Association of Canada present, "How We Can Make Canada a Great Country for Kids".
Event Details:
Monday, November 6, 2017
7:00 p.m. – 8:30 p.m.
Ponderosa Commons Ballroom
6445 University Boulevard
Introductions:
Dr. Mark Beauchamp, Associate Dean, Office of Research, Faculty of Education, University of British Columbia
Bernard Richard, B.C. Representative for Children and Youth
Jerry Nussbaum, President of the Janusz Korczak Association of Canada
Assadullah Sadiq, the Janusz Korczak Scholarship recipient for 2016/17
Lillian Boraks-Nemetz, Author, Board Member the Janusz Korczak Association of Canada
Moderator:
Kit Krieger (BA '72, Professional Ed. Cert '73)
Distinguished Speaker:
David Morley, President and CEO, UNICEF Canada
UNICEF has published fourteen Report Cards on the state of children and youth in high income countries over the past seventeen years. The comparative analyses focus on why countries with similar resources and capacities achieve different outcomes for young people. Over time, a pattern has emerged that has become more and more alarming. Canada is losing momentum to improve outcomes for children and youth, and losing ground relative to our peers. Lagging outcomes and persistently wide gaps between children in health, violence and their own sense of wellbeing show up in the statistical evidence. Why do we rank 25th out of 41 rich nations in the latest UNICEF Report Card? How can we move the needle?
Read more information on last year's Dean's Distinguished Speaker Lectures