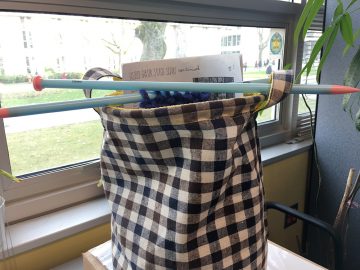 The Faculty of Education Knitting Club is back! Open to all Education staff and faculty from newbie to expert!
If you have always wanted to learn how to knit or have been thinking about starting again, this is your chance. For each person who registers, a knitting kit will be provided. This handy kit will include a set of needles, yarn, basic instructions on how to start and end a project, and a simple pattern for a scarf. Experienced knitters are encouraged to join. Your expertise would be appreciated!
The knitting club is a place for people to come together and socialize while creating something nice for yourself and others. Step away from your computer and look away from your mobile device during lunch. Let's knit! Please note: this club is not a class where an instructor will teach you how to knit. These are drop-in sessions for people to work on individual projects and socialize with other knitters.
The first year of this knitting club was supported by partial funding from the UBC Healthy Workplace Initiative Program (HWIP). The HWIP funding, along with a one-time $10 membership fee, is used towards supplying these kits as well as stocking a mini library of books, patterns, yarn, and knitting notions, which are available for members to borrow.
When: Every other Thursday from 12:00 p.m. – 1:00 p.m., starts Thursday, November 23, 2017
Where: Teacher Education Office (TEO) Meeting Room (Neville Scarfe Building, Room 103)
Registration fee: $10 (one-time only and goes toward supporting future years)
To sign up, please contact Gladys Ling (gladys.ling@ubc.ca) in the TEO.
---
Articles on the Health Benefits of Knitting: