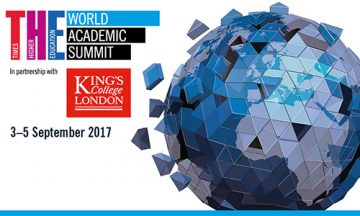 When: September 3 - 5, 2017
Where: King's College London, United Kingdom
The growing internationalisation of higher education has enabled universities to become gateways to the world, providing access to international excellence and becoming beacons of diversity.
Higher education leaders therefore have a critical role supporting the response of governments, industry and civic society to the great challenges of the future. The massification of higher education is forcing the leaders of established, elite research universities to re-evaluate their public roles. Openness, rather than exclusivity is the emerging operating model of the 21st century.
So how can excellence be kept sustainable? What is the role of the modern graduate in the 21st century? How can higher education institutions work more effectively with their host cities and governments? Can models of partnerships move from bi-lateral agreements to multi-lateral 'gentle anarchy'?
Join a full programme of Nobel laureates and university presidents at the Times Higher Education (THE) World Academic Summit to discuss, debate and discover new models of collaboration for a better world.  Speakers include UBC President and Vice-Chancellor Professor Santa Ono.