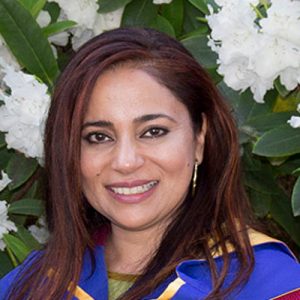 When: Thursday, November 16, 2017 | 4:30 p.m. – 6:00 p.m.
Where: SFU Harbour Centre Campus, Room 2945, Vancouver
An imagined benevolent nation remains at the heart of the Canadian Eurocentric project of schooling. Since such a project carries within it settler and colonial histories, it is crucial to unpack what is meant by any "critical" pedagogical intervention educators might want to advance.
Drawing on Linda Tuhiwai Smith's (1999) framework of decolonization and Walter Mignolo's (2007) theory of coloniality, this presentation will interrogate mainstream understandings of the critical in educational settings in schools and the community at large. Dr. Gill will explore possibilities for decolonizing the critical by raising awareness of dominant ideologies that remain embedded in educational practices. In doing so, she will argue, educators may uncover practices of critical consciousness that could unwittingly serve to violently exclude, appropriate, and oppress marginalized bodies.
Through an investigation of narratives drawn from her recent research projects, as well as her extensive experiences as an educator and activist in a range of K-12 and higher education settings, Dr. Gill will illustrate how concepts of critical awareness and critical consciousness can mean very different things to different communities, and in doing so could stand in the way of genuine efforts toward socially just activism and policy-making in education.
Bio
Hartej Gill was born in India in the state of Punjab. She is the daughter of Mohinder & Jiri Gill and the granddaughter of Kishan & Naranjan Gill and Balwant & Pritam Sull who all come from a tradition of rice, sugarcane, date, wheat, and vegetable farming in their respective villages of Fatehpur, Moranwali, Jindowal, and Palahi. Hartej's education began at the Government Primary School in Moranwali in the District of Hoshiar Pur. She has since worked as an Elementary School Teacher in both the English and French Immersion Programs in the North Vancouver School District. She has also held the positions of an English as an Additional Language Teacher, French as an Additional Language Teacher, Learning Assistance Teacher and Teacher-Librarian. In her last role in the North Vancouver School District, she worked as a Vice Principal at Sherwood Park Elementary School. She joined the Faculty of Education at UBC in 2006.
Working from Postcolonial and decolonizing frameworks, Dr. Gill studies leadership for social justice and transformative education, and the gaps among theory, practice, and social activism. At the core of her work is the goal of provoking critical dialogues about identity, colonialism, and their connections to present day systemic oppressions. As a scholar-practitioner, she aims to use her praxis as way of co-creating transformative and reciprocal relationships between universities, public schools, and the larger community.