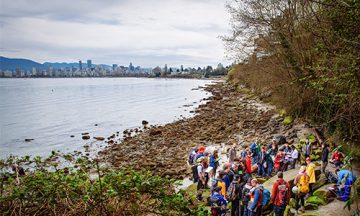 When: Tuesday, April 25, 2017 | 11:30 a.m. – 1:00 p.m.
Where: Meet outside in front of the main foyer of the Neville Scarfe Building
Chained to that desk and computer …  as you read this message…. wishing you had more outdoors in your life?  You sigh …  "Oh, how I so enjoy walking on the beach.  I always feel better after a great walk outdoors." Well, this is your chance! Come out to walk on April 25 in support of increased outdoor learning.
Drs. Marina Milner-Bolotin and Hartley Banack, from the Department of Curriculum and Pedagogy's Outreach Committee in the Faculty of Education at UBC, invite you to join them for a beach walk adventure to explore the UBC campus and the surrounding beaches, and take a healthy outdoor break.
We will meet outdoors, in front of the main foyer of the Neville Scarfe Building, at 11:30 a.m. Be prepared to adventure, regardless of weather!   Please wear appropriate footwear for the beach and bring some food and water. We will return to the starting location at 1 p.m.
We know walking is physically healthy for us, but did you know walking is also connected to "improved" cognitive behaviour?  Read what research from Stanford found about walking and creativity.
The walk is open to everyone, please invite friends and colleagues to join, spread the wave to increase outdoor learning experiences everywhere!  Check out the Wild About Vancouver project! Really, the more the merrier.  Please come out to support outdoor learning at UBC!