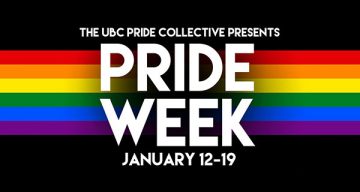 When: January 12-20, 2018
Where: Various UBC locations
The Pride Collective at UBC is thrilled to present PRIDEweek 2018.
We would like to cordially invite you to this week-long celebration of queer and trans identities and communities. This year's theme is Revelry and Resistance, and we would like to hold space for all of the ways queer and trans celebration embodies resistance.
All of our events are open to EVERYONE (not just UBC students), located near single stall gender neutral and in wheelchair accessible spaces. All of our events, with the exception of the drag/dance on January 19 are all ages and free, with no one being turned away for lack of funds.
---
PRIDEweek 2018 SCHEDULE OF EVENTS
FRIDAY, JANUARY 12
Opening Ceremony and Tabling Event (11:30 a.m. – 2 p.m.)
www.facebook.com/events/311664529332915/
SATURDAY, JANUARY 13
QueerU Academic Conference (11 a.m. – 4 p.m.)
www.facebook.com/events/363273757469000/
Pub Night (6 pm – 9 pm)
www.facebook.com/events/317232265446140/
MONDAY, JANUARY 15
Queer Law 101 with Grace McDonell (5 p.m. – 6 p.m.)
www.facebook.com/events/113813752750108/
TUESDAY, JANUARY 16
Lemonade and Cheese Art Show with Sasha Ballon (6 p.m. – 8 p.m.)
www.facebook.com/events/322738594889995/
WEDNESDAY, JANUARY 17
Exploring Kink Workshop (5 p.m. – 7 p.m.)
www.facebook.com/events/1792352874116559/
THURSDAY, JANUARY 18
Anti-Oppression Workshop (5 p.m. – 6 p.m.)
(Facebook event coming soon)
FRIDAY, JANUARY 19
Revelry and Resistance: A Drag Extravaganza (8 p.m. – 2 a.m.)
www.facebook.com/events/396531087442363/