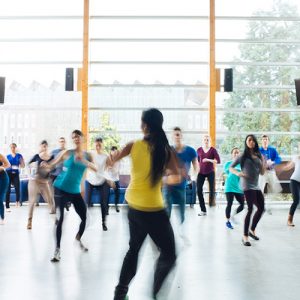 When: September 11 - 17, 2017
Where: Check the schedule for the location of the class you wish to try out
Free Week is a chance for new and returning students, staff & faculty, and the general public to try out any instructor-led classes with UBC Recreation.
Try out as many classes as you want, for free!
We welcome you to drop-in to fitness, yoga, Pilates, dance, martial arts, boot camps, and aquatics classes for free during the second week of classes of every semester. No experience is required. Try as many classes as you would like, and register for your favourites!
How to participate:
No registration is required! Simply show up at the location of your classes 10 minutes before the scheduled start time and you're ready to go! Classes will be filled on a first-come, first-serve basis with priority given to those who have registered for the full program. Everyone will be asked to sign a waiver.
*Please note: priority will be given to patrons who have already signed up for the class.
Starred Classes: What do those classes with a little black star mean? That they're stamp card eligible of course! Print off your Free Week stamp card at home, grab one at the Student Recreation Centre or Ponderosa Studio, attend two of the six classes on the card, get your stamped, then hand it in at the Student Recreation Centre and you're entered to win a free Fitness or Instructional Class!
Open Houses and Free Events
In addition to free instructional, fitness, and aquatics classes being offered all week – we are also offering a number of free activities and open houses throughout the week.
Aquatic Centre Open House
Tuesday Sept 12, from 12:00 – 2:00PM
Come explore our brand-new facility, learn about ways you can get involved or programs you can do here. There will be free activities (both wet and dry!), free coffee, snacks, and prizes to be won!
Recess
Wednesday Sept 13, from 11:00AM – 3:00PM
That's right – we're going old school with outdoor games, snacks, essentially all the best parts of grade school! All games are free to join and our staff are ready to answer all your questions about Recreation opportunities on campus so mark your calendars!
Tennis Centre Open House
Friday Sept 15, from 12:00 – 2:00PM
Have a look at our facility, learn more about our programs, try some fun activities, and meet our world-class coaches (if you're feeling up to it, rally against them!). There will be free lunch (Subway!) provided for the first 50 people and prizes to be won!