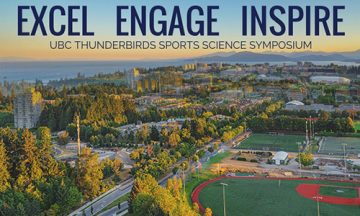 When: Friday, May 5, 2017 | 8:00 a.m. – 4:00 p.m.
Where: Gerald McGavin UBC Rugby Centre, 2765 Wesbrook Mall
The UBC Thunderbirds Sport Science Symposium is a one-day sports science symposium hosting a wide breadth of presenters and attendees across all disciplines and sport science facets at UBC. This symposium aims to build the network amongst students and professionals, highlight ongoing student projects and applied sport research, impart trans-disciplinary knowledge, and inspire further involvement with Integrated Sport Team (IST).
Why Attend?
UBC is the top athletics program in Canada. Part of the recipe for success is the team behind the team. We are the practitioners who keep the athletes healthy, getting stronger physically and mentally supporting athletes and coaches to reach their potential. We are the interface with Kinesiology among other faculties, where novel ideas are tested for real world application and new technologies are utilized to monitor athletes and enhance performance.
You should attend if you are:
A student who is interested in a career in sport. There are people with the coolest jobs that you never knew existed!
A coach who is always learning new ways to support your athletes
A faculty member who wants to connect the knowledge they develop in labs into practical applications!
A community practitioner in Kinesiology, Athletic Therapy, Exercise Physiology, Biomechanics, Performance Analytics, Sport Psychology, Sport Dietetics, or sport Administration
Presenters include School of Kinesiology PhD candidate Harrison Brown, Co-Founder Headcheck Health.