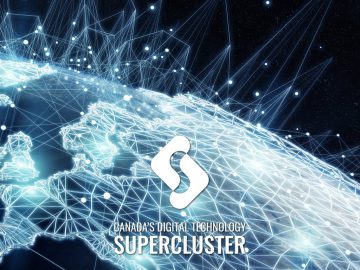 UBC researchers are invited to join us in person or via webcast at one of two town halls meetings about UBC's involvement in Canada's Digital Technology Supercluster.
In February 2018, the Government of Canada announced the five successful applicants in Canada's $950M Innovation Superclusters Initiative.  This initiative saw the Government of Canada challenge Canadian businesses of all sizes to collaborate with other innovation actors, including post-secondary and research institutions, to propose bold and ambitious strategies that would transform regional innovation ecosystems and develop job-creating superclusters of innovation, like Silicon Valley.
Among the five successful business-led innovation superclusters was the BC-based Canada's Digital Technology Supercluster.
As Professor Ono wrote in a February 2018 blog post, "The Digital Technology Supercluster was selected for government support because of its ability to accelerate Canada's global advantage in digital technology using big data to create new economic opportunities and address the productivity, health and sustainability challenges facing Canada and the world today."
UBC is a founding member of this supercluster.
---
The Office of the Vice-President Research & Innovation is holding two Town Hall information sessions for the UBC research community where we will provide more information about this emerging supercluster. We will also address questions relating to the exciting new opportunities and any concerns it creates for research and partnerships at UBC.
Tuesday, April 24, 2018 | 2:00 p.m. – 3:30 p.m.
Friday, May 4, 2018 | 11:00 a.m. – 12:30 p.m.
Both sessions will be held in Lecture Theatre #1 in the Life Sciences Institute on the Point Grey campus and will also be available via webcast with an online Q&A platform.
Please contact Greg Martyn, Director in the Office of the Vice-President Research & Innovation, with any questions about these Town Halls.  We hope you can join us.