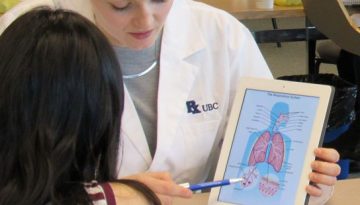 When: February 13-23, 2018
Where: See fair schedule for locations
Registration is now open for the 2018 Travelling Health Fair.
The Travelling Health Fair is a free mobile health clinic put on once a year for UBC staff and faculty. It offers one-on-one health assessments and consultations every February.
Heart Health Screenings:
Heart disease and stroke are leading causes of death and disability for Canadians and understanding risk factors and prevention strategies is key.
As part of this fair, participants will receive the following services: 
Blood pressure measurement;
Body mass index (BMI) and waist measurement;
Cholesterol measurement (involves a small finger prick);
Calculation of heart disease risk (Framingham score);
Interpretation of results and individualized heart health action plan (capture in a health passport).
Total appointment time: 20-30 minutes
All services are provided by pharmacists from the UBC Pharmacists Clinic and pharmacy students from the UBC Faculty of Pharmaceutical Sciences. UBC's Health, Wellbeing and Benefits team will also be on hand to provide resources, information and freebies!
Fair Schedule:
Tuesday, February 13, 2018 | Henry Angus Building: 10 a.m. – 2 p.m.
Friday, February 16, 2018 | Michael Smith Labs: 10 a.m. – 2 p.m.
Tuesday, February 20, 2018 | Diamond Health Care Centre: 12 p.m. – 4 p.m.
Thursday, February 22, 2018 | Brock Hall: 12 p.m. – 4 p.m.
Friday, February 23, 2018 | Robert H. Lee Alumni Centre: 9 a.m. – 1 p.m.
Can't make the fair?
Book an appointment between February 26 – March 9, 2018 and receive the same screening as the Travelling Health Fair, FREE!  Call the UBC Pharmacists Clinic at 604-827-2584 and request the Travelling Health Fair assessment.
Or, visit our Virtual Health Fair.  It includes over 20 different screenings, tools and resources to help you assess your current status and make improvements towards a healthier self.