When: February 21-23, 2018
Where: Faculty of Education, University of Manitoba, Winnipeg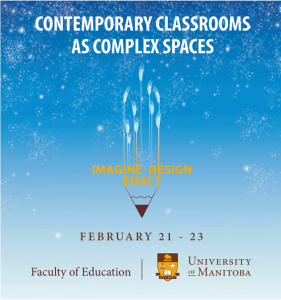 WestCAST (Western Canadian Association for Student Teaching) is an education conference held annually by the Faculties of Education in the western provinces of Canada. WestCAST 2018 will be held February 21-23 at the University of Manitoba, bringing together over 400 education faculty and teacher education students for three days of conversation and engagement on topics that are relevant in today's world of teaching.
"Contemporary Classrooms as Complex Spaces" is the overarching theme for WestCAST 2018. As part of this theme, the Friday sessions will be devoted to "Education for Reconciliation". Spurred by factors such as revolutionary advances in knowledge, new technologies and literacies, the Truth and Reconciliation Commission's Calls to Action, pressing global issues and shifting demographics, educators' views on curriculum, teaching and learning are fundamentally changing. Who are the learners in our contemporary classrooms? How can educators create effective learning environments for learners across the diversity spectrum, and what are the considerations when planning for teaching? How do we track and share evidence of learning? What is a culturally responsive learning environment? How do we weave Aboriginal perspectives into our practice? How do teachers address the unique needs of learners through differentiation? What is evidence-informed practice? How do we engage learners in relevant, authentic, and meaningful learning? How do teachers empower learners to see themselves as agents of change?