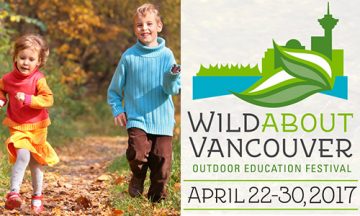 When: April 22-30, 2017 | 9:00 a.m. – 5:00 p.m.
Where: Throughout Vancouver and the GVRD
The Wild About Vancouver Outdoor Education Festival (WAV-pronounced wave) partners with local organizations to provide dozens of free, outdoor-focused activities that showcase the fun and learning to be found in neighbourhoods across our city. Our goal is to get more people outdoors more often!
GVRD Teachers….  Please include an OUTDOOR LESSON in the 2017 Wild About Vancouver (WAV) Outdoor Education Festival.
All teachers who enter a lesson will be included in a draw to win prizes for their class!
And, here is a poster you can put up around your class and school to promote outdoor learning.
Get INvolved and get OUTdoors.
Wild About Vancouver has received national endorsement from the Child and Nature Alliance, Evergreen Canada, Outward Bound Canada, and the Outdoor Council of Canada, alongside support from the Department of Curriculum and Pedagogy in the Faculty of Education at UBC.