When: Friday, March 15, 2019 | 01:00 pm – 05:00 pm
Where: Neville Scarfe Building, Room 31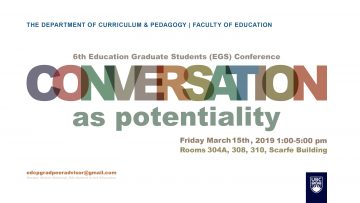 The 6th Education Graduate Students (EGS) Conference is an annual conference
organized by students and for students from the Department of Curriculum and Pedagogy (EDCP) in the Faculty of Education.
This year's theme is Conversation as Potentiality. We chose Potentiality because it "is an important educational concept that repeatedly appears in practice, policy, and theory" (Lewis, 2013, p. 1). For instance, in practice, teachers at all levels wish to help their students reach their full potential. And yet, in an increasingly neo-liberal culture, what does this well-intentioned desire mean for students and teachers alike? How, for example, is a student's full potential measured in a schooling system that encourages teaching-to-the-test? Potentiality is proposed as a way of exploring the 'not yet' and 'must be' of education (Lewis, 2013). Our research, considered in this manner, is potential and all research has the potential to provide a point of conversation.