Counselling Psychology, Master of Arts Graduating May 2017
Why did you choose to study your program?
I had been a police officer for several years and watched a number of colleagues struggle with stress related issues. I didn't really know how to help them, so I became really interested in the counselling program. I was also just starting a new position as the first officer in New Westminster's dedicated police mental health unit. There wasn't a lot of police training for that type of role, so this seemed like the perfect fit to better understand how to best listen, assess and support people in crisis.
Why did you choose UBC?
It was really important to me to go with a well-respected and highly credible program. I researched a number of programs and landed on UBC for its great reputation in both the counselling field as well as the institution as a whole. It's also a little bit of a family tradition, as my father has an MBA from UBC, and my sister will be starting an M.Ed. program here this summer.
What are the most valuable things you have learned?
It's so hard to narrow down to a few things. I think I really learned the value of listening and hearing someone non-judgmentally and without putting in my own advice for how they can solve their problems. I was also witness to some exceptional instructors who were dynamic, engaging, and very knowledgeable. Emulating those skills in my own presentations has proven invaluable. I also saw the value of good supervision both clinically and academically. I pride myself on being more of an "applied practice" kind of guy, but was coached along by a great research supervisor which led me to truly invest and be successful in the thesis process.
What are your goals for the future–immediate? Long-term?
I am really excited to build on my master's research and continue to advocate for improving mental health services available to police officers. I will also be starting a new position as a crisis negotiator and will no doubt rely heavily on the skills learned during my masters. In the future, I would like to return to UBC and complete my PhD.
How do you hope to make a difference in our world?
I love my job and getting to help those most in need in my community of New Westminster. I also look forward to finding new ways of better supporting my colleagues in dealing with the hardships and stresses associated with this line of work.
What advice would you give a student considering your field of study? There are so many amazing careers that people can follow from this program whether it be in the community, in schools, universities, private practice, etc. They are unlikely to make you rich, but certainly offer fulfilling challenging and interesting jobs. You won't regret this decision.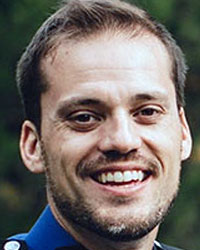 Connect on social media:
---