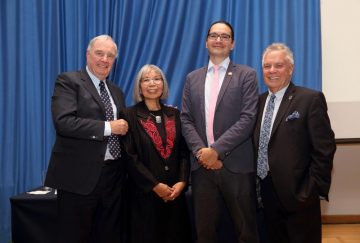 The UBYSSEY
By: Ben Mussett
October 19, 2018
"Canada should lead the world in giving Indigenous peoples the kind of education, healthcare and recognition that they deserve," former Prime Minister Paul Martin told a packed audience at UBC on October 17.
Martin was speaking at Moving Forward Together: Resurgence and Reconciliation in Indigenous Education, the third instalment of faculty of education Dean Blye Frank's "Frankly Speaking" series. He was joined by UBC's former Associate Dean of Indigenous Education Dr. Jo-ann Archibald and the University of Winnipeg's Associate VP Indigenous Affairs Kevin Lamoureux.
Together, the three speakers discussed the challenges and successes of Indigenous education and the essential role it plays in reconciliation.
Link to full text.