When: Saturday, June 1st, 2019 | 08:30 am – 04:30 pm
Where: Ponderosa Commons, Ballroom, 6445 University Boulevard.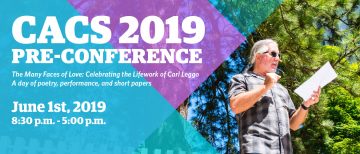 Registration is open for the CACS 2019 Pre-Conference: The Many Faces of Love: Celebrating the Lifework of Carl Leggo. This will be a day of celebration and remembrance through creativity: poetry, performance, and short papers, as well as visual displays.
The plenary-style program will take place between 8:30am and 4:30pm on June 1st, 2019 in the Ballroom of Ponderosa Commons. The fee is Regular $50; and Student/Retired/Unwaged $25. Register by April 26th at bit.ly/2G94d0I. For information please email cacspreconference@gmail.com.
Dr. Carl Leggo recently passed away. To celebrate his many commitments to interdisciplinarity and arts-based inquiry, colleagues and friends are creating a new graduate scholarship in his memory. To find out more, please visit memorial.support.ubc.ca/carl-leggo.