When: June 13, June 21 | 10:00 am – 12:00 pm
Where: KIN | Michael Smith Laboratories, Room 101 ECPS | Neville Scarfe Building, Room 310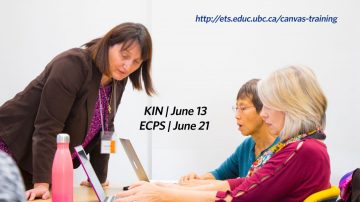 Switching to a new online platform can be difficult, but the ETS team is here to give you all the skills you need to present your material the way you want to. During our sessions we will cover everything you need to know from creating modules to grading assignments, as well as fun features such as adding comments on submissions using speech to text. The training will also be hands on, so please remember to bring your laptop.
We have two more upcoming sessions for Kinesiology (KIN) and Educational and Counselling Psychology and Special Education (ECPS):
KIN | June 13 |  10:00 a.m. – 12:00 p.m. | Michael Smith Laboratories Room 101
ECPS | June 21 | 10:00 a.m. – 12:00 p.m. | Neville Scarfe Room 310
Please email ets.educ@ubc.ca to sign up.