October 10, 2018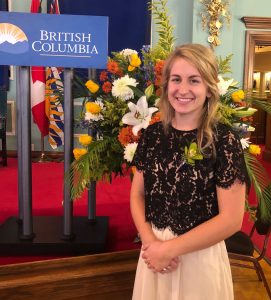 Join us in congratulating Faculty of Education Alumnus, Maymie Tegart, on being awarded the Premier's Award for Excellence in Education: Outstanding Teacher Award.
Maymie graduated UBC with a Bachelor's of Education in 2016.  Shortly after graduating, Maymie took a teaching position at Blue River Elementary, bringing her experience and ideas to a multi-grade classroom in the Northern BC community. As part of her teaching, Maymie has brought nature into the classroom by turning a room spare room into a greenhouse for the students.  Here her students have been able to start seeds, learn about life cycles and pollinators through observation and hands on learning.
Narrowed down from 188 nominees, Maymie was chosen as one of nine inaugural winners of the Premier's Awards for Excellence in Education.  These awards honour the achievements of education professionals working in the public, independent, First Nations and offshore schools.
Congratulations Maymie!