When: Wednesday, November 14th, 2018 | 06:00 pm – 09:00 pm
Where: HSBC Hall - UBC Robson Square, 800 Robson Street, Vancouver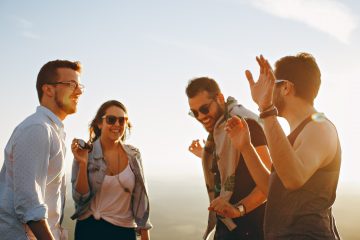 "Dating in Vancouver is easy!" – said no one ever.
We've all stumbled through the dating minefield, overwhelmed by self-doubt and uncertainty.
This workshop will provide you a blueprint to navigate the dating world.
Four speakers with four different expertise – a Counselling Psychology Master, a Reformed Matchmaker, a Communications Trainer, and a Meetup Organizer – are coming to your rescue! So, prepare yourself for a night of hilarious & interactive skits, discussions and studies on dating.
By the end of it, you'll better understand who you are as a dater, the right match for you, and how to tackle the dating game meaningfully.
Also, to be discussed:
1) DISCOVER yourself as a dater
2) EXPAND your dating horizons
3) LEARN about your physiology as a dater
4) PRACTICE emotional intelligence
Following the talks, there will be a mingling session to give you the opportunity to practice what you've just learned!
Location:UBC Robson Square – HSBC Hall
Date: November 14th, 2018
Time: 6:00-9:00
Cost: $20
RSVP: Contact Emilie at emilie.vaughanjones@ubc.ca to register
Meet the Experts
Paul Wong
YOU and Paul Wong can work together to bring out the best communicators in people.
His company Speaking G.I.F.T.™ helps individuals and organizations communicate better with each other. Clients master speaking with presence (how to DO), influence (how to SAY), and connection (how to THINK). Paul has taught as a High School English Teacher, consulted as a Real Estate Advisor, and was cast in Season 1 of the Vancouver docu-reality show "House My Style" on OMNI Canadian Television. Paul has the passion of emceeing 21 weddings to date. He is proud to work with the team to help launch UBC's first interactive "Dating School" to challenge the status quo and show that the way to dating is fun, exciting, and easy
Nancy Ruth Deen
Nancy  is a reformed matchmaker and founder of The Date Cure. She starting out working in the matchmaking industry, and after 4 years, she discovered how powerful a matchmaker's insights really are. Today, she's here to share what she's learned most about the men and women she's worked with in hopes of inspiring you to date more meaningfully.
Ida Wang
Ida believes that the secret to a meaningful life is meaningful relationships. 100% introvert but 100% curious and invested, she noticed how hard it is to meet people in Vancouver and vowed to democratize socializing. Through the meetup group she started 3 years ago, Ida runs activities and speed dating events to make the city a little warmer, one connection at a time. She's more than happy to chat about making friends, communications… and everything else."
Tim Laidler
Tim has a Master of Counselling Psychology from the University of British Columbia, and is currently the Executive Director of the Center for Group Counselling & Trauma at UBC. He is passionate about helping people develop emotional fitness & discovering their best selves.
​