When: Saturday, January 13, 2018 | 8:15 a.m. – 12:45 p.m.
Where: McRoberts Secondary School, Richmond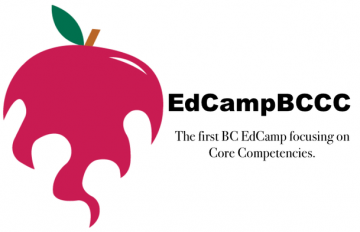 EdCampBCCC is BC's first EdCamp dedicated to the core competencies.
What is an EdCamp? An EdCamp is a free, organic, participant-driven, un-conference that empowers educators to maximize professional learning experiences and peer networks. Participants choose the topics for the sessions and the conversations in the sessions are facilitated by participants.
Preliminary schedule:
8:15 a.m. – 8:45 a.m. – Session proposals and voting
8:45 a.m. – 9:00 a.m. – Welcome and session organization
9:00 a.m. – 10:00 a.m. – Session 1
10:15 a.m. – 11:15 a.m. – Session 2
11:30 a.m. – 12:30 a.m. – Session 3
12:35 p.m. – 12:40 p.m. – Closing message and prize draw