Faculty of Education Council Meeting
May 23, 2018
The Dean traveled to Kelowna for the monthly Faculty of Education Council meeting. In his opening remarks the Dean discussed the possible merger of UBC and UBC-O Faculty of Education.
Conversations with the Dean
Tuesday, April 24
Dean Frank hosted Conversations with the Dean to meet with Faculty members in an informal setting to catch up, discuss goings-on across the various departments, and enjoy refreshments.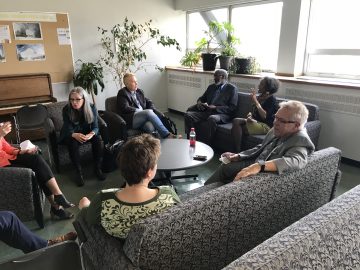 Faculty Research Awards
April 17, 2018
Dean Frank attended this annual celebration of UBC research award winners. Dr. Hongxia Chan from the Department of Educational Studies was honored for her Killam Research Fellowship.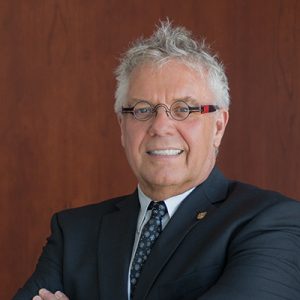 District Outreach Event
April 18, 2018
Dean Frank attended the District Outreach event which highlighted upcoming BEd program happenings in the Teacher Education Office at UBC. The event's purpose was to welcome educators and administrators from Lower Mainland school districts who host and mentor UBC teacher candidates on practicum. Dean Frank greeted the audience and thanked them for their support, and Dr. Wendy Carr (Teacher Education Office) shared updates about the program.
School districts (and institutions) that were represented:
Burnaby
Conseil Scolaire Francophone
Delta
New Westminster
North Vancouver
Richmond
Surrey
Vancouver
West Vancouver
Independent Schools
Association of BC Deans of Education (Sandra Bruneau)
Teacher Regulation Branch (Wilma Clarke, Shawn McMullin)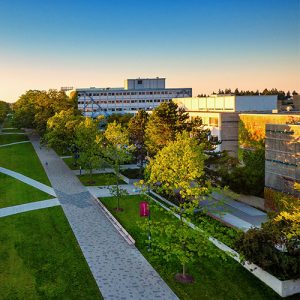 IB Alumni Social – 5th Year Anniversary
April 19, 2018
Dean Frank presented opening remarks at the Faculty of Education IB Alumni Social. This event celebrated the 5th Year Anniversary of the program. Various grad cohorts attended, with students from the 2015 and 2016 graduate classes speaking to the crowd about their work as new IB teachers in classrooms around the Lower Mainland.
The UBC International Baccalaureate Educator Stream was Canada's first IB-recognized teacher education program.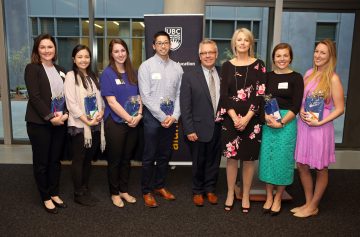 Meeting with the Chinese University of Hong Kong
April 18, 2018
The Dean met with the delegation to introduce them to the Faculty of Education at UBC and prepare for his visit to the Chinese University of Hong Kong (CUHK) in June to be an external reviewer for their research and teaching programs (Curriculum and Instruction, Educational Administration and Policy, and Educational Psychology) in their Faculty of Education. The delegation from CUHK met with our ECE unit, ECPS department, School of Kinesiology, and then with the Dean and Associate Deans.
Photo (L-R): Dr. Mark Edwards, Assist. Dean, PDCE; Dr. Alvin Leung, Dean of Education, CUHK; Dr. Mark Beauchamp, Assoc. Dean, ORE; Dean Blye Frank; Dr. Stephen Wong, Chair, Dept. of Sport Medicine & Phys Ed, CUHK; Dr. Wendy Carr, Assoc. Dean, TEO; Dr. Anna Kindler, Sr. Advisor, International; Dr. Cindy Sit, Assoc. Dean for Undergrad. Studies, CUHK; Dr. Alan Cheung, Chair, Dept. of Educucational Administration & Policy, CUHK.
Alumni UBC Volunteer Recognition Reception
April 17, 2018
The Dean attended as a UBC representative. Each year, roughly 3,000 UBC alumni volunteer their time to support their alma mater. As an annual event that engages, connects and celebrates UBC alumni volunteers, the Volunteer Recognition Reception holds a very important place in alumni UBC's annual programming calendar. It is a special thank you to alumni volunteers to celebrate their valuable work for the alumni UBC organization as their involvement in various roles, projects and programs has an immense impact on the UBC community.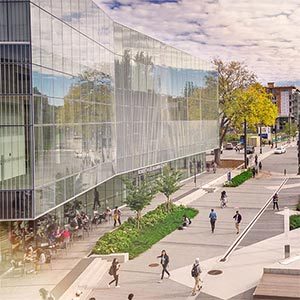 Opening of the Indian Residential School History and Dialogue Centre
April 9, 2018
Dean Frank attended as a guest to witness the official opening of the UBC Indian Residential School History and Dialogue Centre and a statement of apology for UBC's involvement in the system that supported the operation of the Indian residential schools.
The Centre will be a place for former students and survivors of the Indian residential schools and their communities to access their records, for students and the public to explore the vast archival holdings and learn about the history and legacy of the schools through interactive technology, and for university and community members to meet in focused discussions about the uses of history and other collaborative projects.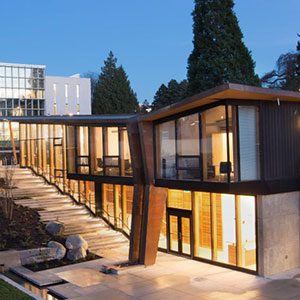 American Education Research Association (AERA) Conference
April 13 - 17, 2018
While at AERA, Dean Frank attended the April 14 meeting of the Universitas 21 (U21) Deans of Education group. The group meets twice annually for the discussion of issues in Education of common interest and concern across the participating U21 institutions. Dean Frank provided a brief report on the UBC Faculty of Education during the Deans' Roundtable, and presented on "Quality Teaching in Higher Education" as part of the Focus Discussion panel.
Dean Frank was also a presenter at the Association of Canadian Deans of Education (ACDE) symposium, "Canadian Deans of Education Acting Locally to Change Nationally" on April 15.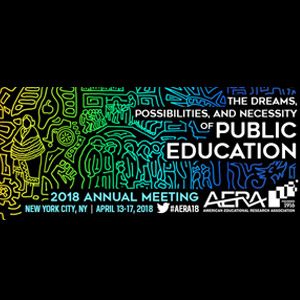 UBC-NTNU Statement of Collaboration Signing Ceremony
April 6, 2018
Dean Frank met with Dean Chern from the National Taiwan Normal University (NTNU) for a Statement of Collaboration Signing Ceremony.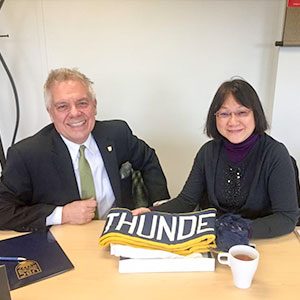 Dean's External Advisory Board Dinner
April 5, 2018
Dean Frank hosted his bi-annual External Advisory Board Meeting to discuss professional development and community engagement in the Faculty of Education. He received feedback and suggestions from the Board, who play active roles in education outside of the University, on various Faculty initiatives.
Attendees included:
Dr. Blye Frank, Dean, UBC Faculty of Education (Chair)
Dr. Thelma Cook, Professor Emerita, UBC Education Studies
Ms. Harpreet Dhillon, Gr. 6 teacher at Surrey's Cindrich Elementary School & 2013 UBC Alumni Teacher Award Recipient
Mr. Wade Grant, Special Advisor to the Premier on Aboriginal Issues
Mr. Bob Poole, Regional Development Specialist for IB Americas Region of the International Baccalaureate Organization
The Hon. Linda Reid, Member, Legislative Assembly
Dr. Michel Tarko, President, Justice Institute of BC
Ms. Terry Taylor, Superintendent, School District 10
Dr. Mark Edwards, Assistant Dean, Professional Development & Community Engagement (UBC)
Ms. Shaheen Jivraj, Manager, Professional Learning and Administration (UBC)
Ms. Abby Blinch, Manager, Marketing & Communications (UBC)
Dr. Nataska Boskic, Director, Educational Technology Support (UBC)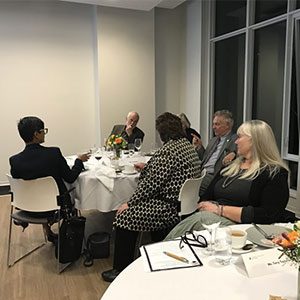 Community University Roundtable on the Opioid Overdose Crisis
April 3, 2018
Dean Frank attended the Community University Roundtable on the Opioid Overdose Crisis as an active listener. The roundtable convened community and university members, including Professor Santa Ono and other UBC senior leadership, to explore stigma related to substance use and addictions – causes, implications, and solutions.