Special Project Assistant Search
August 31, 2018
The Dean sat on the interview panel for the one-year contractual position of the Special Project Assistant. The Special Project Assistant will provide administrative support to the Senior Advisor to the Dean in areas of mental health literacy education and sexual orientation and gender identity (SOGI) inclusive education and outreach. This position will also support other special projects including event and conference planning/ coordination and budget tracking. We will update the faculty with the successful candidate once the search concludes.
Meeting with Andrew Percy, UK MP
August 30, 2018
Dr. Frank was introduced to Andrew Percy, UK MP and Trade envoy to Canada, by Tim Laidler and Dr. Westwood. The meeting focused on the promotion of the Faculty of Education's group counselling training program that will begin talks with other UK MP's in London in the following month.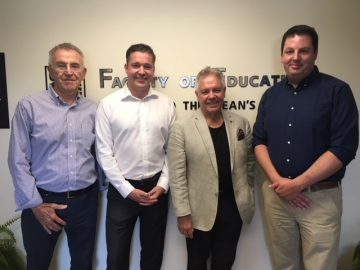 Reception to Recognize Louise Cowin
August 29, 2018
Dr. Frank joined President Santa Ono and other colleagues to recognize the efforts of Dr. Cowin, as she has resigned from her position as Vice President, Students. Announced early May of 2018, Dr. Cowin was a pleasure to work with, and has brought immense leadership to enhancing the UBC student experience through learning both within and outside the classroom.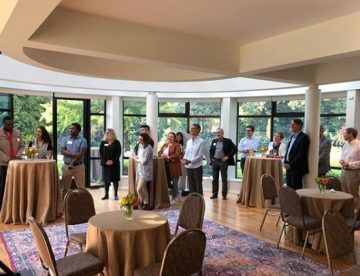 Teleconference with Dr. Ananya Mukherjee-Reed and Deans
August 29, 2018
Dr. Ananya Mukherjee-Reed was appointed Provost and Vice-Principal Academic of the UBC Okanagan campus last month. Through teleconference, Dr. Frank and the other Deans welcomed Dr. Mukherjee-Reed and introduced their portfolios to the new Provost and Vice-Principal Academic.
Teacher Education Faculty Orientation
August 28, 2018
Dr. Frank joined the Teacher Education Faculty Orientation this morning to welcome everyone into the new academic year. The orientation brought everyone in Teacher Education Office together to mix, mingle, and gain more knowledge about the departments and the support services available to them and the new student cohorts.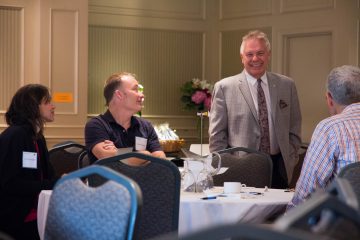 Recognition event for Alexandra Allen
August 28, 2018
Dr. Frank and fellow ECPS staff and faculty celebrated Alexandra Allen, a Graduate Program Assistant for the department, as she is leaving the position. Alex has served UBC for 30 years, and has made extensive contributions to the program.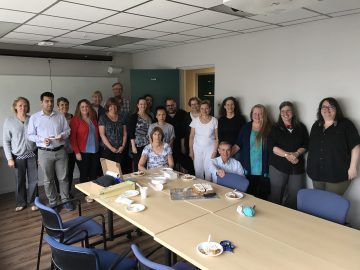 UBC Okanagan School of Education Retreat
August 24, 2018
Dr. Blye Frank, along with several members of the Faculty and Dean's Office visited the UBC Okanagan Campus to attend the Okanagan School of Education Retreat at the Kelowna Yacht Club. There, they learned about the vision, purpose, commitments and goals of the Faculty's Strategic Plan, as well as participated in a workshop titled Community Building: Cultivating Respectful Workplaces Maximizing Potential. Closing comments were made by Dr. Blye Frank.
Academic Leadership Retreat 2018
August 22- August 23, 2018
The Dean was invited to attend the Academic Leadership Retreat on our UBC Okanagan Campus to participate in several workshops that pertained to Change Management and Conflict Engagement, facilitated by Dr. M. Beth Page and Dr. Aftab Efran and Professor Tom Scholte, respectively.
The Academic Leadership Series is offered by the UBC Okanagan Campus Human Resource department, in collaboration with the Office of the Provost, and is an opportunity for Academic Heads of Unit to come together and learn, support, and facilitate their successes in carrying out administrative responsibilities in an academic environment.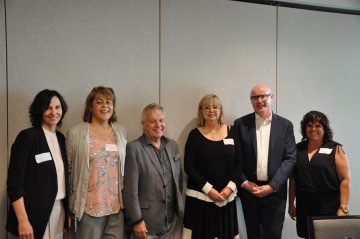 Jennifer Kain appointed as UBC's new Chief Risk and Audit Officer
August 20, 2018
The Dean met with the newly appointed Chief Risk and Audit Officer, Jennifer Kain. The pair discussed UBC Risk Management Service's mandate and the overview of the new unit Jennifer oversees, including services available in the present and future. They also met to discuss the strategic priorities and the risk and assurance needs of the Faculty of Education to ensure UBC Risk Management Services aligns with the Faculty's Strategic Plan while still delivering maximum value to all stakeholders.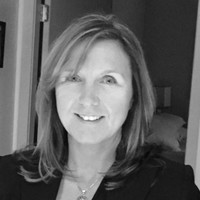 Kurt Heinrich appointed as new Senior Director, Media Relations
August 17, 2018
Dr. Frank was introduced to Kurt Heinrich, the new Senior Director of Media Relations at UBC. Kurt joins us from Simon Fraser University where he has held the role of Director, University Communications, for the past three years.
Prior to this, Kurt was the Public Relations Manager of the Vancouver School Board. He is a past President of the Vancouver Chapter of the Canadian Public Relations Society and currently sits as a Trustee on the Vancouver Public Library Board.
Dr. Frank, Moira McDermott, and Ben Drake welcome Kurt to UBC and are eager to work alongside him.
Temple Grandin Talk: Developing Individuals who have Different Minds
August 17, 2018
AutismBC in partnership with 4-H British Columbia, Dr. Frank attended best-selling author Temple Grandin's acclaimed talk: Developing Individuals who have Different Minds at the PNE Agrodome.
One of the first people to publicly share her insights into autism from an insider's perspective, Grandin is a prominent author and speaker on autism, who has published multiple books on the subject.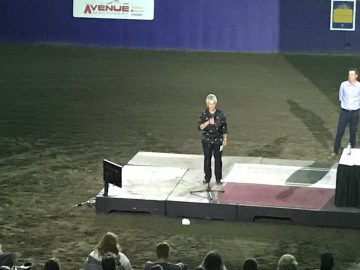 Welcome Reception for the Vancouver Queer Film Festival
August 16, 2018
Dr. Frank attended the welcome reception at SFU Goldcorp Centre for the Vancouver Queer Film Festival. VQFF is a vibrant space for queer arts, culture, and community. It showcases dynamic and thought-provoking films from British Columbian filmmakers as well as other Canadian and international directors and storytellers.
The Festival curates films which contextualize and celebrate queer lives and experiences and prioritize foregrounding diverse identities in our communities, including narratives from trans people, queer people of colour, and Indigenous people. It is Western Canada's largest queer arts event.
See more recent updates from Dr. Blye Frank, Dean and Professor, UBC Faculty of Education here.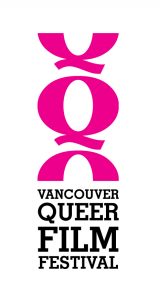 Tour of Chan Gunn Pavilion
August 14, 2018
Dr. Frank, Dr. Frost, and Dr. Sheel took a tour the Chan Gun Pavilion. Under the John R. Evans Leadership fund (JLEF), Dr. William Sheel's grant proposal of a CFI infrastructure was approved. Support from the School of Kinesiology and the Faculty of Education, specifically Dr. Frost, Director of Research and Support Services, allowed Dr. Sheel the ability to create a new lab space with innovative equipment, providing exercise and rehabilitative care services.