The Dean hosted a fundraiser for Contact! Unload
Thursday, July 6, 2017 4:30 p.m. - 6:30 p.m.
Imagine being a military veteran returning home from a tour of duty, unable to cope with the traumatic events of war and connect with your closest family and friends. This experience is all too common among veterans, and it is the reason that suicide has become the largest threat to the lives of Canadian soldiers.
The Veteran's Transition Program (VTP) provides group counselling to Veterans struggling to transition back into civilian life. The groups connect Veterans not only to their peers going through the same struggles as them, but with Vets who've successfully overcome their difficulties. They learn and practice the skills required to communicate effectively in civilian society. The program has helped over 700 veterans transition back into civilian life.
Contact! Unload is a theatre piece developed by UBC Dr. George Belliveau and Dr. Marvin Westwood in conjunction with the VTN. It features Canadian Armed Forces veterans who share their stories of overcoming challenges as they transition home post-deployment. The 30-minute play has been performed 18 times, reaching over 1500 audience members. When we showcase these theatre performances, we most often identify a family in crises and get them the help they need.
Canada is hosting the 2017 Invictus Games in Toronto this September and we will take the stage to help impact the veterans: over 600 physically wounded, injured, or sick servicemen and women from 17 allied nations will compete in 12 adaptive sports, with thousands in attendance. This is our opportunity to bring Contact! Unload to the world stage, and into the conversation surrounding Veterans' health. We're trying to make sure that every Veteran in Canada who needs this program can access it, and now we need your help.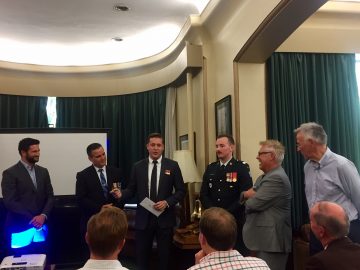 Invited speaker at the Summer Institute in Critical Issues in Multiculturalism
Friday, July 7, 2017
Dr. Frank gave a talk at Dr. Henry's 2017 Summer Institute:
Critical Multiculturalism: Empowering Teachers, Transforming Schools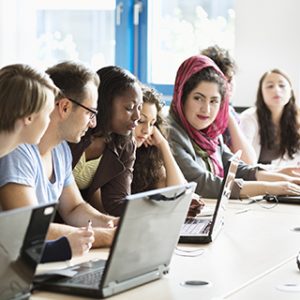 Short Course Banquet this summer – Celebrating 40 years!
Friday, July 7, 2017
Leading Learning: Open Mind, Open Heart
The Faculty of Education welcomes participants to the *BCPVPA-UBC Short Course, taking place July 3 – 8, 2017 in The Great Hall at the Nest. We are thrilled to celebrate this 40th anniversary with educational leaders from across the province, many of whom are Faculty of Education alum.
The Short Course is an intensive one-week program developed by the BCPVPA and the UBC Faculty of Education and is supported by the *BCSSA. The program is designed to provide new school leaders with an opportunity to hone the theories and skills necessary for success in their new roles.
The annual Short Course has been a part of BC's educational leadership development since 1977.  Course work contains a blend of research and practical application that creates an essential understanding of what principals and vice-principals need to know and how to accomplish it.
Celebrating 40 years, 1977 – 2017!
* BCPVPA – British Columbia Principals' and Vice-Principals' Association
* BCSSA -British Columbia School Superintendents Association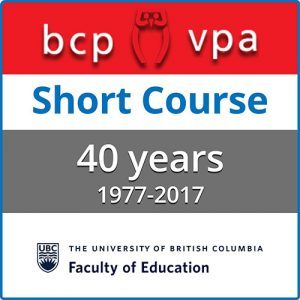 Visit by the Embassy of the Kingdom of Saudi Arabia
Friday, July 7, 2017
To discuss the potential interest of the faculty in collaborating with the ministry of education or the ministry of Health in KSA.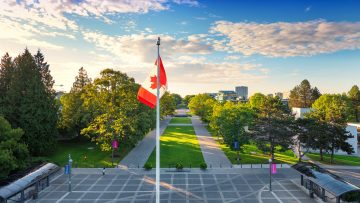 TEC Expo
Wednesday, July 12, 2017 - Thursday, July 13, 2017
Event Recap
With TEC Expo 2017 behind us, it is time to reflect. TEC Expo, or Technology Enhanced Classroom Expo, was created so faculty, students, staff, and guests can learn from each other. Each year we bring the Faculty of Education community together in the Scarfe foyer to share our biggest success stories and challenges when it comes to teaching with technology.
This year marked the fourth TEC Expo, and as with every year we tried to make it a more inclusive, accessible, and innovative event. We incorporated live video streaming for the first time, and ETS' very own Bill Pickard conducted interviews with each presenter. All the videos can be viewed on the Professional Development and Community Engagement Facebook page. Hundreds of people joined us by watching live or after the event. The event was also live-tweeted using the #TECExpo2017 hashtag.
Another innovative addition to the event this year was the Emerging Media Lab, or EML. The EML is an exploratory space for people to discover the possibilities of virtual and augmented reality. If you are UBC faculty, student, or staff and didn't get a turn in VR during TEC Expo, you can drop in on Tuesdays and Thursdays from 12:00 – 1:30pm at Neville Scarfe Building Room 1. The EML will be located in Scarfe until the end of August.
We continued an innovation from the 2nd and 3rd TEC Expos with a second day dedicated to Educational Making. There were opportunities to learn about food, knots, jewellery making, coding, robots, weaving, book making, button making, creating augmented reality experiences, experiencing a virtual stage, and the UBC seed library. It was an amazing array of educational makers sharing their experiences.
As always, it was a joyous occasion and our special honour to host the Faculty of Education's fourth annual TEC Expo. We hope it helped you learn about new and emerging ways of teaching and learning, and facilitated constructive conversations about pedagogy. The presenters were an inspiration, and if you did not have the privilege to attend we encourage you to watch the archived live stream videos on the PDCE Facebook page.
Learn more about the presenters on the archived TEC Expo 2017 website using the tabs above, and check out the photo galleries below!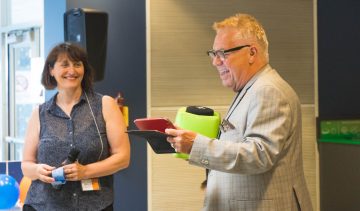 Transformative Educational Leadership Program (TELP) Graduation
Wednesday, July 12, 2017
Students have been engaged in transformative educational change across BC and the Yukon; at least half a dozen are moving into roles of progressive leadership next year.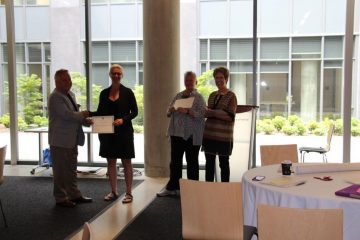 Meeting with Jiangsu Provincial Department of Education
Thursday, July 20, 2017
Discussions of Possible Specific Areas of Collaboration
MOU Signing Ceremony and Photo Taking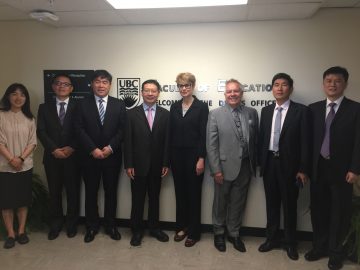 Meeting with Ms. Winty Cheung, Executive Director, UBC Asia Pacific Regional Office (APRO)
Tuesday, July 25, 2017
Ms. Winty Cheung, Executive Director, UBC Asia Pacific Regional Office (APRO), visited during the July Vancouver Summer Program, to meet with each of the participating faculties / schools / departments to review VSP 2017, and to discuss the program and plans for Summer 2018.

UBC China Council farewell lunch with Consul General LIU Fei
Wednesday, July 26, 2017
Madame LIU Fei, Consul General of China in Vancouver (with the rank of ambassador), will leave her post in Vancouver. Madame LIU Fei has been a strong advocate of strengthening the people-to-people connection between British Columbia and China. She has played an unparalleled role in connecting UBC to top level Chinese universities, businesses and government agencies. Her strong leadership and tireless dedication have helped elevated UBC's collaboration with China at all levels.
To express our gratitude, UBC China Council hosted a farewell luncheon in honor of her at UBC.