Pride Convergence Reception
July 30, 2018
Dr. Frank attended UBC's annual Pride Convergence event, which seeks to build and sustain LGBT2SQIA+ networks and visibility, and supports university's efforts to foster Positive Space to build a more inclusive campus community.
San Diego IB Conference
July 26 – 29
Dean Frank attended the IB Global Conference on IB's 50th Anniversary, celebrating with the theme 'Shaping the Future'. The conference was intended to unite and collaborate IB educators from all over the world. Dr. Frank gave a keynote on July 27, called "Moving Beyond the Four Ds of Multiculturalism: Taking Different into Account in Education", as well as presented "Dean's List: The Future of Teacher Education" on a panel on July 28.
Ice Cream Social
July 24, 2018
Each year, the Teacher Education Program hosts an Ice Cream social to mark the end of the degree for the B.Ed cohort, and celebrate their successes. Dr. Frank, Wendy Carr and members of the TEO office helped with the celebration by passing out ice cream.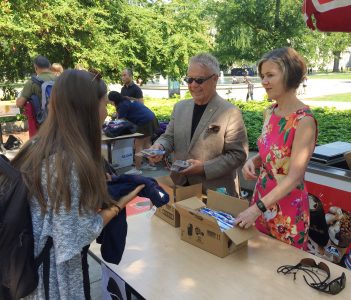 Canadian School Boards Association Congress
July 5 – 7, 2018
Dean Frank attended the annual Canadian School Boards Association Congress, held in Halifax, Nova Scotia. The theme for the conference was "Navigating the Waters: Guiding the way through relationships, stewardship and leadership in education." Dr. Frank was invited to present a keynote, 'Moving Beyond the 4 D's of Multiculturalism: Taking Difference into Account in Education', which focused on how education can move beyond traditional barriers to multiculturalism and focus instead on an educational model that emphasizes language, pedagogy, policy and curriculum to inform and education the relationships and communication of diversity and inclusiveness.
41st BC Principals' and Vice Principals' Association Short Course
July 2 – 7 2018
Dean Frank introduced the 41st BCPVPA Short Course conference, titled "Leading Learning: Thriving in a Time of Innovation and Change". An overview of the week and the encompassing philosophy and vision were provided by Co-Directors of the program, Elizabeth Bell and Jessica Antosz, Managers of the Professional Learning and Development Workshops for the BCPVPA.