March Faculty Meeting
March 29, 2018
Dean Frank hosted Faculty at the quarterly Faculty of Education Meeting. The Dean introduced the new Head of the Education Library, Peggy Lunn, and the new Director of Communications, Moira McDermott, to the Faculty.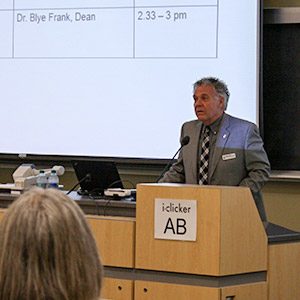 KIN Hosts 2017/18 Mentorship Wrap-up
March 26, 2018
Dean Frank participated as a key speaker for the KIN Mentorship program wrap-up event and congratulated the Mentorship program participants. The event formally wraps the year's program, recognizes mentor and mentee contributions, and gives participants an opportunity to reconnect one final time before the program concludes.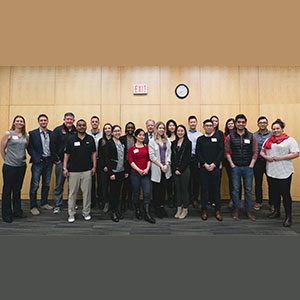 Meeting with Restaurateur and Activist Meeru Dhalwala
March 20, 2018
Dean Frank met with Meeru Dhalwala to discuss how the Faculty of Education is addressing water accessibility and sustainability. Ms. Dhalwala is an activist for environmental sustainability and its impact on people's access to nutritional food and their health. She is committed and interested in UN Sustainable Goal #6, "Access to safe water and sanitation and sound management of freshwater ecosystems are essential to human health and to environmental sustainability and economic prosperity" in relation to UBC.
Meeru Dhalwala is a longtime restaurateur, and is the co-owner of world-renowned Viji's and Rangoli in Vancouver. She is a supporter of local business and agriculture, and is the founder and co-organizer of the Joy of Feeding, an annual international food fair held at the UBC Farm in Vancouver.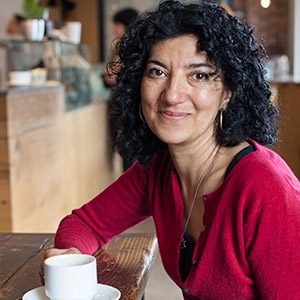 'Teaching and Learning in Complex Contexts' Symposium
March 18-20, 2018
Dean Blye Frank and Dr. Wendy Carr presented the official welcome to Dadaab at Day 2 of the Teaching and Learning in Complex Contexts Symposium. This Symposium gathered researchers, students, educators, staff and community members here in the Neville Scarfe Building to share current research in emergency refugee education, imagine new possibilities and plan future concrete actions.
The University of British Columbia and Moi University (Eldoret, Kenya) are partnering to offer a Moi Diploma in Secondary Teacher Education, for Dadaab refugee camps in northeastern Kenya. In addition to the university diploma program, we have an ongoing long-term research project around living, learning, and teaching in the camps, led by faculty members in the Department of Curriculum & Pedagogy.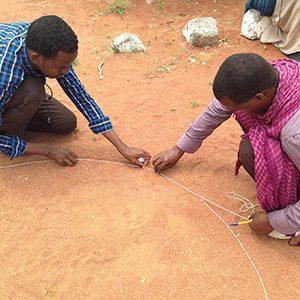 Candidate Search for DNSO Support Staff
March 19-22, 2018
Dean Blye Frank and his search committee conducted interviews for DNSO support staff, Dean's Office Administrative Assistant and Senior Associate Dean's Administrative Assistant. Updates will be announced as the process continues.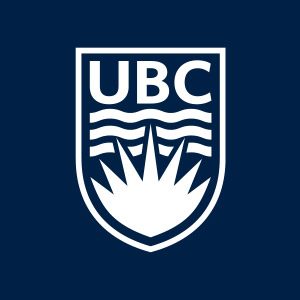 Official Opening of the Chan Gunn Pavilion
March 15, 2018
Dean Blye Frank attended the opening ceremony for the Chan Gunn Pavilion and assisted in unveiling the building plaque. The new building will house the Centre for Physical Activity & Exercise Medicine including a kinesiology and physiology laboratory to orchestrate research and care involving with fitness monitoring and muscular and cardiorespiratory testing.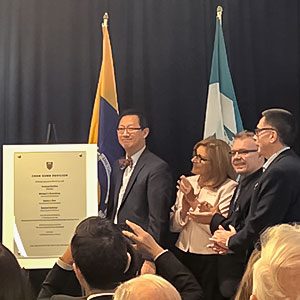 Dean Hosts Dr. Carol Nicoll, Executive Dean of the Faculty of Education at the Queensland University of Technology
March 15, 2018
Dean Blye Frank hosted Dr. Carol Nicoll, Executive Dean of the Faculty of Education at the Queensland University of Technology, for lunch along with Dr. Anna Kindler, Senior Advisor, Office of International Engagement, to explore international partnership opportunities. Dr. Nicoll is an alumna and completed her PhD at the Faculty of Education at the University of British Columbia.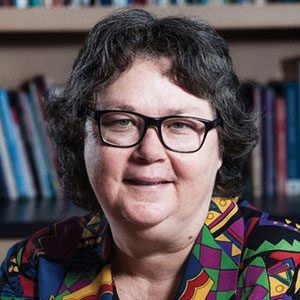 Director of Development and Alumni Engagement Interviews
March 15-16, 2018
Dean Blye Frank, along with an interview panel, conducted interviews for the position of Director, Development and Alumni Engagement in the Faculty of Education. As the interview process continues, the Faculty will be kept up-to-date.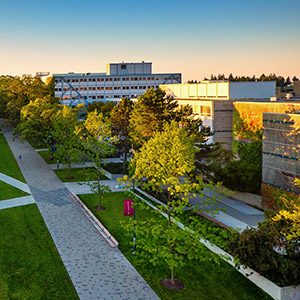 Workplace Respect Keynote
March 7, 2018
Dean Blye Frank invited all Faculty of Education staff, students and faculty members to a Workplace Respect Keynote delivered by Paul Pelletier. Paul Pelletier is a corporate lawyer, international professional speaker, author, consultant and educator in workplace bullying management, workplace respect and leadership.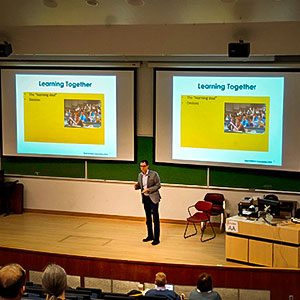 2018 UBC-SWU Intensive International Teacher Training Program Graduation
March 2, 2018
Dean Blye Frank congratulated the graduates of the 2018 UBC-SWU Intensive International Teacher Training Program.
30 Undergraduate and graduate students from Southwest University (SWU), Chongqing, China, took part in the program from February 11 to March 3, 2018 to learn Canadian teaching practices and theories, focusing on K-12 education in BC.