Teacher Education Awards Night
November 26,2019
The Dean attended the annual Teacher Education Awards Night, which was hosted by the Teacher Education Office. Dr. Frank helped recognize and welcome back BEd '19 alumni who received awards for the 2018-2019 academic year.
Kinesiology Awards Night
November 28, 2019
Dean Frank joined students, staff, faculty, family, friends, and donors at the School of Kinesiology's gala awards night. This annual event recognizes KIN students who have been recipients of academic scholarships and prizes, and the generous donors and supporters of the School.
Dean's Distinguished Lecture
November 19, 2019
Dr. Blye Frank, Dean of the Faculty of Education and Mr. Jerry Nussbaum, President of the Janusz Korczak Association of Canada, co-hosted the Dean's Distinguished Lecture: Speaking from the Heart, featuring Keynote Speaker, Senator Murray Sinclair.
Watch the recording here.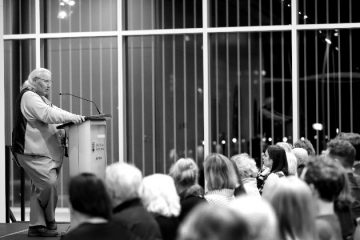 Healthy Aging: Conversations that Matter
November 12, 2019
Dr. Frank joined UBC Faculty of Medicine Executive Associate Dean Dr. Roger Wong and UBC alumni and friends in Victoria for an important conversation about healthy aging. Participants learned about new technologies to make homes safer, as well as simple solutions for improving socialization and combating loneliness in seniors.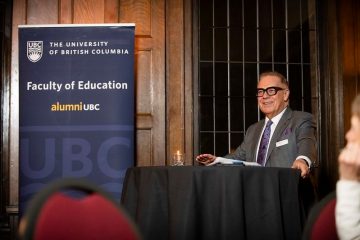 Alumni Achievement Awards
November 21, 2019
The Dean attended the Alumni Achievement awards at the Fairmont Hotel Vancouver in downtown Vancouver. Celebrating several members of the University community, the Faculty of Education was fortunate that two of its alumni were recipients of this year's Alumni Achievement Awards: Mr. David Morley and Dr. Gwendolyn Point.