When: Tuesday, July 24, 2018 | 11:30 am – 01:00 pm
Where: Neville Scarfe Building, Outside Main Entrance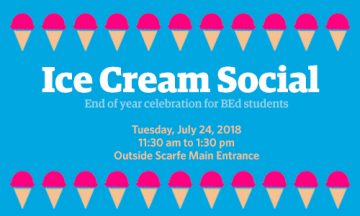 Ice Cream Social is the end of year celebration hosted by the Teacher Education Office for BEd students.
Bring your UBC card to receive a free UBC Faculty of Education Alumni t-shirt and ice cream.
Bring your nameplate to take pictures at the Teacher's Desk Photobooth.
Bring your ideas to the interactive message board.