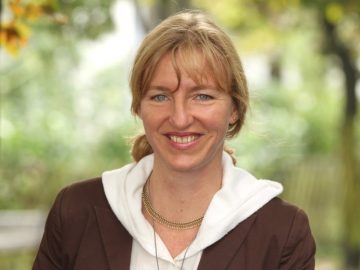 Department of Educational Studies
Critical Dialogues Seminar Series
Political Efficacy & Social Trust: Why Literacy Programs Shouldn't Focus Only on Employability
Seminar with Dr. Anke Grotlüeschen, Hamburg University
Tuesday, September 25th, 2018 | 2:00 – 3:30 p.m. | PCOH 2012
The large-scale findings from PIAAC (Programme for the International Assessment of Adult Competencies) offer more than knowledge about economic outcomes of high/low literacy proficiency. They also provide data on "political efficacy", "social trust" and "volunteering." Political efficacy is a construct that indicates democratic participation and asks for individuals' feelings on whether they can influence politics. Social trust indicates social cohesion and asks whether individuals trust their co-citizens as well as social institutions. Thus, our research questions are: How do low literate subpopulations think about their political efficacy, how strongly do they trust in their society, and how often are they involved in volunteering?
Our theoretical assumptions do not conceptualize people in terms of "human capital" or "rational choice." Political engagement and social cohesion correlate with the belief in a fair society. Two French intellectuals, Rancière and Rosanvallon, point to massive disruptions of social cohesion. Economists like Piketty call for new models of distribution, which can hinder tax avoidance and improve shared use of the commons. We conclude that politically extreme choices are made in societies that lack a belief in communality and justice.
Social trust is low amongst low literate subpopulations and volunteering seems a weak strategy for integrating low-literate adults. Their feelings of political efficacy hint at a certain disengagement with politics. Recent literacy programs or strategies tend to focus primarily on employment and employability (as in Germany). The findings hint at a new task for literacy provision: empowerment and democratic participation seem to be the new challenge.
Dr. Anke Grotlüeschen is Professor for Lifelong Learning at Hamburg University. She oversees 4 million Euros in research grants focused on literacy, numeracy, political participation and lifelong learning. This includes two nationwide Level One Surveys (2011, 2019). Her advice for policy makers strongly influenced the Decade of Literacy (2016-2026) with its focus on financial, health, digital and civic education. Studies on youth organisations link her research interests with experiences in Hamburg's city partnership program with Nicaragua. She is visiting EDST until October 19 and can be reached by email at anke.grotlueschen@uni-hamburg.de.