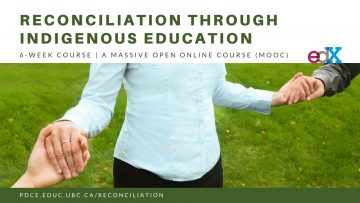 January 5, 2018
Indigenous Education for Everyone
Engage with Indigenous knowledge keepers, educational leaders, and resources to enhance your understanding and knowledge of practices that advance reconciliation in the places where you live, learn, and work.
Classes start January 30, 2018 | Enroll today
Growing educational policies tell us we must change the way we design, deliver and assess learning opportunities for Indigenous learners. Educators need the ability to respond to education reform that prioritizes improved educational outcomes for Indigenous children and youth.
Join Dr. Jan Hare for the latest offering of this popular and well-received 6-week Massive Open Online Course (MOOC), which will explore strategies, teaching exemplars, and resources that support the teaching and learning of Indigenous ways of knowing in classrooms, schools, and communities.
This online course is delivered using the edX platform.