When: Monday, July 23, 2018 | 12:00 pm – 01:00 pm
Where: Neville Scarfe Building, Room 310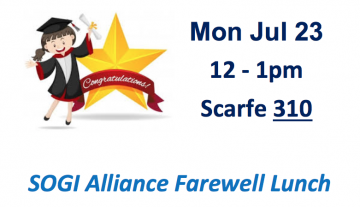 Come celebrate and connect with other Sexual Orientations and Gender Identities (SOGI) champions as we mark the end of an exhausting year of learning and growth. Don't miss this final opportunity to connect with elementary, middle, and secondary teacher candidates to share stories, future plans, and memories of a great year together.
Light refreshments will be served.