When: Thursday, November 8, 2018 | 06:00 pm –
Where: St. John's College, UBC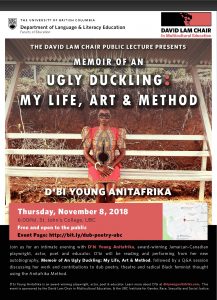 Join us for an intimate evening with D'bi Young Anitafrika, award-winning Jamaican-Canadian
playwright, actor, poet and educator. D'bi will be reading and performing from her new
autobiography, Memoir of An Ugly Duckling: My Life, Art & Method, followed by a Q&A session
discussing her work and contributions to dub poetry, theatre and radical Black feminist thought
using the Anitafrika Method.
D'bi Young Anitafrika is an award-winning playwright, actor, poet & educator. Learn more about D'bi at dbiyounganitafrika.com. This event is sponsored by the David Lam Chair in Multicultural Education, & the UBC Institute for Gender, Race, Sexuality and Social Justice.
This event is FREE and open to the public.