October 30, 2019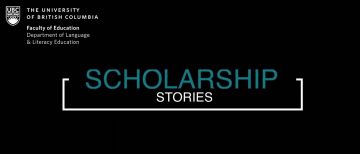 In this episode of the Scholarship Stories, we chat with Dr. Victoria Surtees, Lecturer in the TESL certificate program and the B.Ed. program in LLED. She shares with us her thoughts in language learning outside traditional classroom environments, and ways to support language learners. Victoria also speaks to us about using mobile devices to bridge the gap between what's happening outside and inside the classroom, and how international multilingual students contribute to changes in universities today.
You can watch the full interview on our website or Youtube channel.
If you are interested in learning more about Dr. Victoria Surtees's research and work, please visit her academia page.