When: Tuesday, November 19, 2019 | 12:30 pm – 03:00 pm
Where: Neville Scarfe Building, Room 1007
The Transformative Inclusive Pedagogical Practices (TIPP) Project is led by Dr. Jan Hare, Associate Dean of Indigenous Education, and Dr. Wendy Carr, Dean's Senior Advisor for Sexual Orientation and Gender Identity (SOGI) Inclusion. This project seeks to build competency among teacher educators to engage in the foundational work of supporting pre-service teachers in their teaching and learning of Indigenous and SOGI-inclusive perspectives, content, and learning approaches, as well as create safer learning environments for Indigenous and LGBTQIA2S+ students in the teacher education program.
Instructors and faculty advisors in teacher education must negotiate the integration of inclusive pedagogical practices in their teaching and/or supervising while preparing pre-service teachers to do the same. As the Faculty of Education prepares over 700 teacher candidates annually for the teaching profession, graduates must be able to respond to emerging curriculum priorities that include the First Peoples Principles of Learning in all areas of the K to 12 BC curriculum and recent changes to school district policies related to SOGI-inclusion with corresponding curricular links and SOGI 1 2 3 resources.
National directives from the Truth and Reconciliation Calls-to-Action (2015), the Association of Canadian Deans of Education National Accord on Indigenous Education (2010), and recent changes to provincial human rights legislation to protect gender identity and expression create unique responsibilities for teacher educators and pre-service teachers in this professional learning context.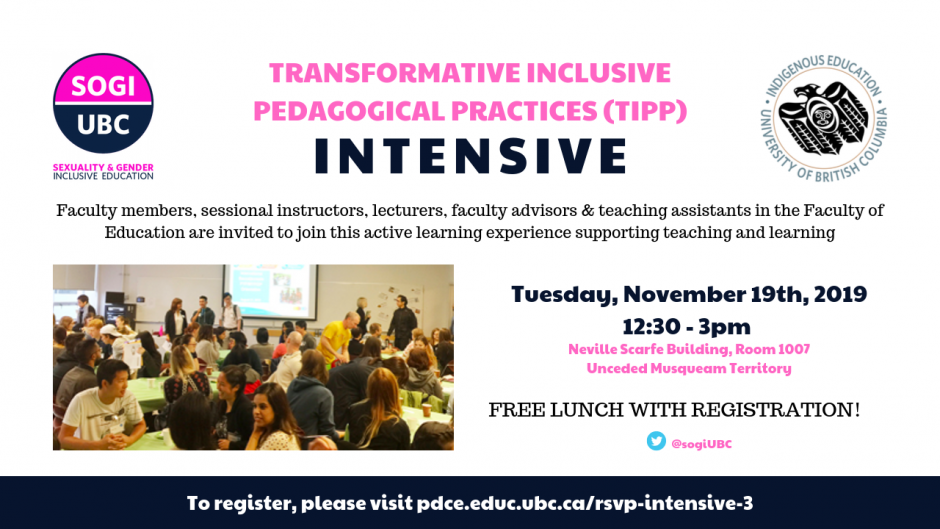 Inclusive pedagogical practices in teacher education are informed by theoretical frameworks such as culturally-responsive pedagogies, anti-oppression approaches, queer or feminist theory, intersectionality, anti-colonial, anti-racist and decolonizing methods, and Indigenous theories of education. Yet, how instructors engage in inclusive teaching practices is influenced by a range of factors, including their discipline, teaching and other experience/s or identity/ies.
The Office of Indigenous Education and SOGI UBC, in partnership with the UBC Research-Based Theatre Collaborative, offers this first TIPP Intensive as experiential opportunities for teacher educators. University classroom scenarios are depicted as a springboard for discussion, analysis and exploration of transformative, inclusive pedagogical approaches that consider the multiple experiences and identities of our students.