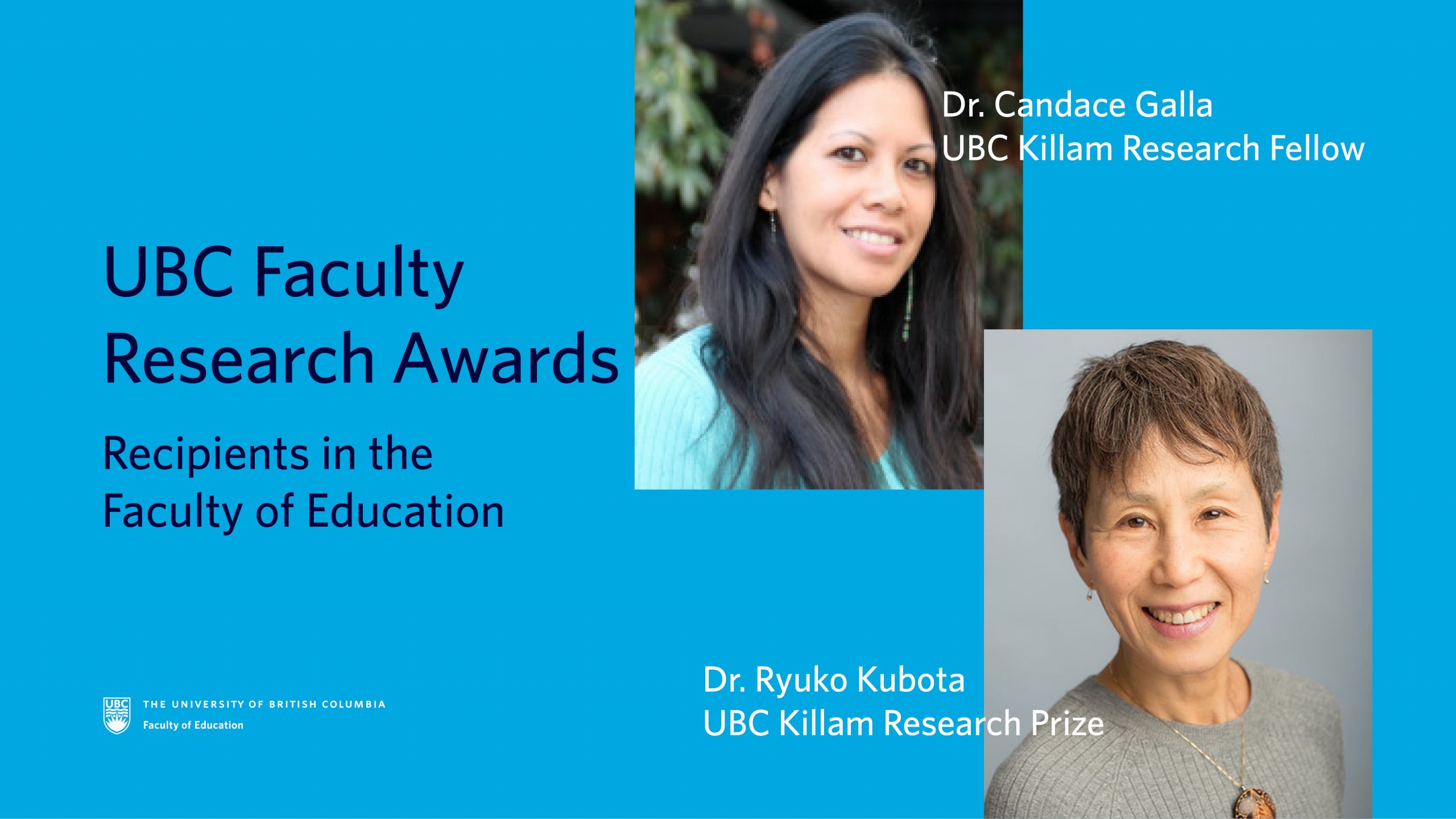 Congratulations to the recipients of UBC's Faculty Research Awards, including faculty members Dr. Candace Galla and Dr. Ryuko Kubota.
UBC KILLAM RESEARCH FELLOW
Enabling faculty to pursue full-time research during a recognized study leave
Junior Category – award categories are based on the number of years since PhD completion
Dr. Candace Galla
Associate Professor, UBC Faculty of Education
Dr. Galla's research explores what types of technology initiatives (low, mid, or high) Indigenous language communities are using to revitalize, maintain, and promote their language.
Born in Hilo, Hawaiʻi and raised in a sugar plantation town, Pahala, in Kaʻū, Hawaiʻi, Dr. Galla was exposed to an array of languages and cultures from a young age. She continued learning about her Hawaiian language and culture formally at Kamehameha Schools on Kapālama campus in Honolulu. Upon graduation, she attended the University of Arizona, where she received a BA in Linguistics, MA in Native American Linguistics and a PhD in Language, Reading and Culture. While she resided in Tucson, Arizona, she was the Program Coordinator of the American Indian Language Development Institute (AILDI). The program reignited her passion of her culture and inspired her dissertation research on Indigenous language revitalization and technology. Afterward, Dr. Galla moved back to Hawaiʻi, where she was a Visiting Assistant Professor in Ka Haka ʻUla O Keʻelikōlani College of Hawaiian Language at the University of Hawaiʻi in Hilo. There, she taught linguistics courses, including Introduction to Linguistics and Indigenous Languages of the United States.
To learn more about Dr. Galla's work, visit her profile page.
UBC KILLAM RESEARCH PRIZE
Recognizing outstanding research and scholarly contributions
Arts and Humanities: Senior Category – award categories and adjudication based on number of years since PhD completion and main source of Tri-agency research funding
Dr. Ryuko Kubota
Professor, UBC Faculty of Education
Dr. Kubota's research focuses on critical approaches to culture, race, and pedagogy in language education.
Dr. Kubota is a co-editor of Race, culture, and identities in second language education: Exploring critically engaged practice (2009) and Demystifying career paths after graduate school: A guide for second language professionals in higher education (2012). Her publications have also appeared in Applied Linguistics, Critical Inquiry in Language Studies, Journal of Second Language Writing, Journal of Multilingual and Multicultural Development, Linguistics and Education, TESOL Quarterly, and other journals. She has also published many book chapters and publications in Japanese.
To learn more about Dr. Kubota's work, visit her profile page.
---
The Office of the VP, Research and Innovation will be hosting an online celebration on May 11, 2021 to acknowledge the achievements of our researchers in 2020 and 2019.
For more information, please visit UBC's
Faculty Research Awards page
.