When: December 5, 2018 | 9:30 am – 11:00 am
Where: Neville Scare Foyer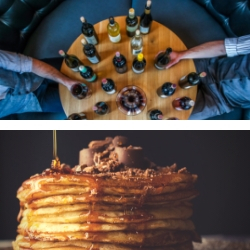 the UBC United Way Campaign is in full swing across campus with events taking place throughout various faculties and units both here and at our Kelowna Campus. This year, the Faculty of Education has organized a small campaign for our faculty and staff and hope you'll join us in raising funds and awareness for this great cause.
Last year, 750 staff and faculty at UBC donated to the United Way through payroll giving. This year, we hope to reach 1,000 donors. To help support this goal, we're inviting you to take part in 2 fun events over the next month.
The Master of Wine Raffle – November 1 – December 5
• For a chance to become the Master of Wine, simply donate to the United Way online through the faculty/staff self-service portal and drop off a bottle of wine to the ORE before December 5th
• To receive 1 ticket: make a one-time e-pledge to the United Way
• To receive 5 tickets: make a recurring bi-weekly payroll e-pledge to the United Way
• To receive 2 bonus tickets: contribute a 2nd bottle of wine
• The Master of Wine will take home all of the bottles donated throughout the campaign
Faculty of Education UW Pancake Breakfast – Wednesday, December 5th – 9:30-11:00 (Scarfe Lobby)
• Celebrate the end of the campaign by joining us for a pancake breakfast made possible with support from the Dean's Office
• Enjoy live music, take a selfie with the UW Mascot, Seymour the Otter and mingle with colleagues across the Faculty
• Find out who will be declared the Faculty's first Master of Wine!
---
The United Way works hard to change lives locally. They work with local agencies, governments, and donors like you to build a vision of a healthy, caring, inclusive community.