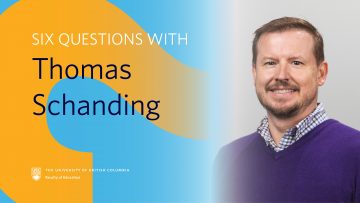 By Ayla Collins
Dr. Thomas Schanding is an Associate Professor in the Faculty of Education and Area Coordinator for the School and Applied Child Psychology (SACP) Program, which prepares graduate students to become practicing psychologists. Dr. Schanding's research program focuses on the social-emotional, mental and behavioral health of students, as well as the social experiences and school functioning of 2SLGBTQIA+ youth.
By Ayla Collins
In her research, Dr. Anusha Kassan, Associate Professor, Faculty of Education, explores the migration experiences of same-sex binational couples, newcomer youth, 2SLGBTQIA+ newcomers and more. Dr. Kassan also investigates cultural and social justice competencies among graduate students and field supervisors. We asked Dr. Kassan six questions to learn more about her research interests.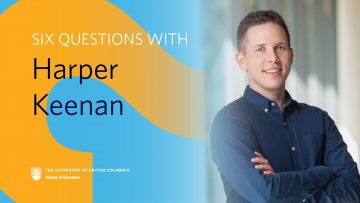 By Paula Sabti
This Pride Month we are celebrating the work of Dr. Harper Keenan, the Robert Quartermain Professor of Gender and Sexuality Research in Education at UBC. Dr. Keenan's research analyzes how adults teach children to make sense of the social world. Much of his work investigates the management, or scripting, of children's knowledge, and ways that educators and their students might work together to interrupt that process and imagine something different. We asked Dr. Keenan six questions to learn more about his work.