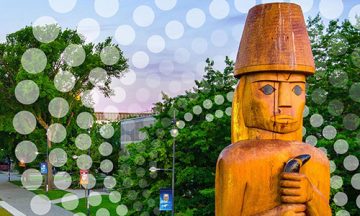 The University of British Columbia is pleased to be hosting the 2019 Congress of the Humanities and Social Sciences at the Vancouver Point Grey campus. Jointly organized by the Federation for the Humanities and Social Sciences and the host institution, Congress is the largest interdisciplinary conference in Canada, and one of the largest in the world. The annual event brings together over 70 academic associations that represent a rich spectrum of disciplines in the humanities and social sciences.
Generous financial support ("subventions") is available for a number of parallel events or exhibitions at Congress 2019 that showcase the (often interdisciplinary) work we do at UBC.  The events may be scheduled under UBC Programming (for research and creative work) or Career Corner (related to pedagogy or the profession). UBC will provide financial support (up to $5000) to individuals or groups working in the social sciences and humanities at UBC to create an event or installation to be presented at Congress, preferably in conjunction (or conversation) with an association or community group. These events will supplement the work being done at the association meetings.  The subventions may be used for speakers (fees and travel) to speak in collaboration with UBC researchers, performers, materials for installations/compositions, production costs, or other directly-related expenses. The funds are not meant for salaries, operating equipment, or research assistance.  Projects with a legacy potential (e.g., that can be shown to have a lasting impact on/at UBC) will be given priority. For example, a short colloquium could be presented in conjunction with an exhibition and the exhibition could form the basis of a future collection to be housed at UBC.
Application materials: Send us (info.Congress2019@ubc.ca) a two page proposal with an event title, a description of the event, and the central research questions it addresses. The proposal should include a statement of connection to associations or community groups, if applicable, and a description of the organizer/ organizing team. A summary budget (1 page max) and complete contact information are also required. Please also copy your completed submission to info.educ@ubc.ca.
Application Deadline: June 15, 2018
Download the Congress 2019 Subvention Budget Summary Template (Excel)
Note also: Family programming: The Nest will be the central hub of Congress (registration, book fair, and career corner events). The Nest will also serve as a meeting point for family events. These might include guided walks in Pacific Spirit Park, free yoga classes, group trips to the beach, or coordinated visits to the Museum of Anthropology.  There will be daycare on site and UBC camps will run camps for older children. Suggestions welcome.
For information regarding Federation funding opportunities for associations that hold their conference at Congress, please contact organizers@ideas-idees.ca.