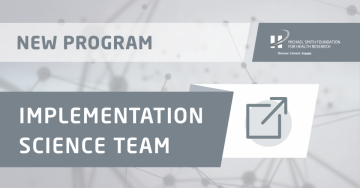 The Michael Smith Foundation for Health Research (MSFHR) launched the Implementation Science Team (IST) Program, a new funding opportunity designed to support the implementation and adoption of evidence-based, implementation-ready interventions that will improve the quality and effectiveness of health, health services and care in BC.
The program will support teams, consisting of at least one researcher, two research users, one trainee and an executive sponsor (a senior decision maker within the BC health system), to come together to plan, conduct, and study the implementation of proven health interventions that address one or more of BC's current health system priorities.
More information, eligibility requirements, and details on how to apply can be found here.  The 2018 IST competition will open for applications mid-February.
Deadlines:
Development Grant Letter of Intent deadline: April 16, 2018, 4:30 p.m. PT
Anticipated start of Development Grant: July 1, 2018
Project Grant full application due: January 14, 2019, 4:30 p.m. PT
Questions about the program can be directed to Dr. Les Grad, MSFHR's manager of research programs at lgrad@msfhr.org.