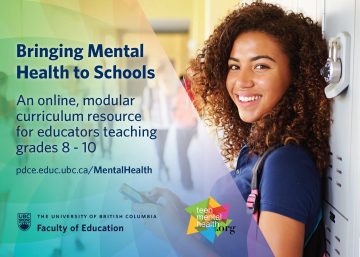 Educational Technology Support (ETS) in conjunction with Teen Mental Health has helped launch a self-guided, fully online, classroom ready, modular mental health curriculum resource.
Mental health literacy is the foundation for mental health promotion, prevention and care and can be successfully implemented through classroom based curriculum interventions that have been scientifically shown to improve mental health related outcomes for students and also for their teachers. A Canadian-developed, nationally and internationally-researched resource, the Guide — previously delivered only through face-to-face training — is now available online through a UBC-supported program.
In this course, educators will learn how to apply this classroom-ready, web-based, modular mental health curriculum resource (the Guide) as well as upgrade their own mental health literacy. Educators can then use this curriculum resource in their schools to successfully address mental health related curriculum outcomes designed to be delivered by usual classroom teachers to students in grades 7 – 12.
Register for the course here: pdce.educ.ubc.ca/MentalHealth/
If you have any questions about this online course, feel free to contact ETS at ets.educ@ubc.ca or by phone at 604-822-6333.