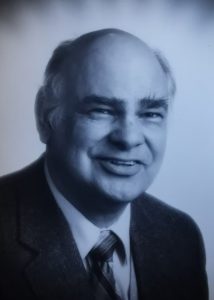 The Anastasiou family has donated and established an Award in loving memory of Clifford (Kip) Anastasiou, a Faculty member in the Department of Mathematics and Science Education (currently the Department of Curriculum and Pedagogy) from 1962 to 1994. The Anastasiou family has been very generous with their philanthropy to UBC and this award in Kip's memory and will make a huge impact on the lives of Teacher Candidates who are pursuing to teach STEM education.
Kip's interest and expertise in Curriculum Development led to work in a number of important international curriculum projects over his distinguished career. His primary teaching and research interests focused on the development of curriculum materials focusing primarily on the fields of environmental education and health education. The most notable of these was his work at the Education Development Center in Cambridge Massachusetts and his Directorship of the Primary Math and Science Peace Corp Program in Kuala Lumpur. In the 1980's Kip played a leadership role in the establishment of the Pacific Circle Consortium (PCC), an initiative in international co-operation between educational research and development in the Pacific Region. Under Kip's direction and leadership, this local Press was initiated in 1971 as a vehicle to publish a series of teachers' guides emanating from the Vancouver Environmental Education Project – a collaborative project with a group of local teachers writing curriculum guides using the local environment to study a variety of science, math, and environment-related issues. His legacy of initiating Pacific Educational Press carried on for decades and it became a significant educational press publishing over 300 educational resources across a variety of subject areas, including: Aboriginal and First Nations Education, Mathematics, Science, Language Arts, Social Studies, Curriculum Studies, and Family Studies/Home Economics.
The Anastasiou family's most recent gift builds on their support of the Faculty of Education, STEM education, and the Teacher Candidates. We are very thankful for their generosity. Receiving financial support can be life-changing for our students.
First award available for the 2020/2021 winter session.