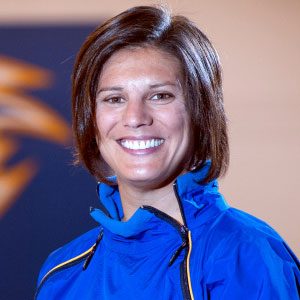 Rugby Canada has announced the 2018 Hall of Fame inductees, including Dr. Maria Gallo (Player), Senior Instructor I and Director, Masters of High Performance Coaching & Technical Leadership Program, in the School of Kinesiology.  She is the second woman to be inducted into the Rugby Canada Hall of Fame. Inductees are recognized for their contributions and influence, both on and off the pitch, and growth of the sport over the last few decades.
Congratulations, Dr. Gallo!
---
From the Rugby Canada news release:
Dr. Maria Gallo (Player)
Maria Gallo began playing rugby at St. James High School in Guelph launching a career that would last fifteen years and take her around the world.
She starred as a member of the Guelph Gryphons from 1996-2000 leading her team to four provincial titles and the inaugural CIAU championship in 1998. She and the Gryphons would win the CIAU silver medal the following season. Both times she was named a tournament all-star and the event's most valuable player. Gallo was a two-time OUA all-star (1997 & 1998), an All-Canadian in 1998, and Guelph's Female Athlete of the Year that same year. After graduating from the U of G, she moved to the University of Alberta where she won two more national titles in 2001 and 2003 and was named the Panda's Female Athlete of the Year and the CIAU Player of the Year in 2002. She did all this while earning her Ph.D. in Muscle Exercise Biochemistry.
Her next stop on the rugby pitch was playing for Canada. She was a vice-captain for several years playing on the national 15's rugby team from 1999 to 2010. She was a mainstay of the national team playing a total of 55 international caps and in two World Cups – 2002 and 2006. In 2006 she had the second most tries of any player in the event with six. Gallo played with Canada's national 7's rugby team from 2008-2010 where again her leadership and dogged determination paid off as she was named team captain leading our country into the 2009 World Cup.
In 2002 and 2003 she filled her winter months as a member of Canada's Bobsleigh team, finding the power she had developed in rugby was a natural fit when it came to the explosive starts necessary in bobsledding.
Gallo is now the head coach of the UBC Thunderbirds Women's 7's and 15's rugby teams taking the 7's squad to their first national title in 2016. While at UBC she completed her post-doc in blood doping and in 2010 was elected to the Guelph Gryphon Hall of Fame. She was also inducted into the Guelph Sports Hall of Fame in 2016.