October 8, 2019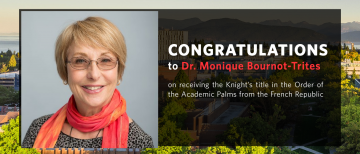 We're excited to announce that Dr. Monique Bournot-Trites has received the Knight's title in the Order of the Academic Palms from the French Republic!
The Academic Palms is a French decoration established October 4, 1955, by Council President Faure which follows the distinction of Officer of Academy created by Napoleon (1808) to honor eminent members of the University. It is a national order bestowed by the French Republic to distinguished academics and figures in the world of culture and education. This is the oldest distinctions awarded only on a civilian basis.
Learn more about the order and its history here.