May 29, 2019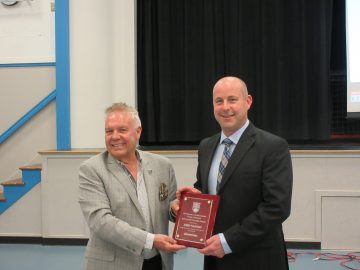 The Dean of UBC Faculty of Education, Dr. Blye Frank announced Mr. John Nanson as the winner of the 2019 UBC Faculty of Education Alumni Teacher Award.
John Nanson has been the Community School Coordinator at Edmonds Community School since 2016 and before that, he was the Access Teacher at Burnaby Central High School from 2006 – 2016. Prior to settling in Burnaby, John worked in the small Northern community of Pukatawagen, Manitoba.
John has been described as "a highly inclusive individual that is able to work from a strengths-based approach."
Dr. Blye Frank, Dean and Professor, in the Faculty of Education, presented the award at Edmonds Community School general assembly where John's colleagues, family, and friends all gathered to celebrate John's achievements.